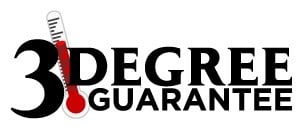 Here at WAND, we strive to bring you the most accurate weather forecasts, and we're the only station in Central Illinois confident enough to guarantee them. That's why we're introducing J.C.'s 3-Degree Guarantee.

Five days a week on WAND News at 10, Chief Meteorologist J.C. Fultz will give you his 3-Degree Guarantee that the next day's high temperature will be within three degrees of what was predicted.

The next day on WAND News at 6, J.C. will compare his forecast with the day's actual high temperature.