J.C.'s 3-Degree Guarantee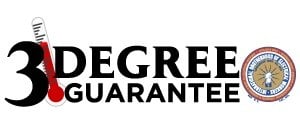 Here at WAND, we pride ourselves on bringing you the most accurate weather forecasts in the area; in the summer of 2014, we became the first station in central Illinois confident enough to guarantee them. Over the next few months, "J.C.'s 3-Degree Guarantee" evolved into a unique partnership between local charities, WAND, and the IBEW.

The concept is simple. Five days a week on WAND News at 10, Chief Meteorologist J.C. Fultz will give you his 3-Degree Guarantee. He guarantees the next day's high temperature will be within three degrees of what he predicted.

The next day on WAND News at 6, J.C. will compare his forecast with the day's actual high temperature.
Each day J.C. gets it right, WAND and the IBEW will donate to a "charity of the month." WAND presents the money at the end of each month to the charity. It's WAND's way of giving back to the community while holding ourselves to the high standard and accuracy viewers have come to expect of WAND-TV.
The numbers don't lie; you can keep track for yourself on this page. While others may follow WAND by doing similar promotions, JC's forecasts continue to live up to the promise of being the most accurate in central Illinois (Decatur-Springfield-Champaign area). Everybody wins with JC's 3 Degree Guarantee.

MONTH ACCURACY MONEY DONATED
_______________________________________________________________________
August 2014 - 91.0% $11,000
July 2015
August 2015- 91.9% $12,000
July 2016

August 2016- 90.9% $11,850
July 2017