Emotions Run High As Tom Michael is Introduced as EIU Athletic Director
Posted: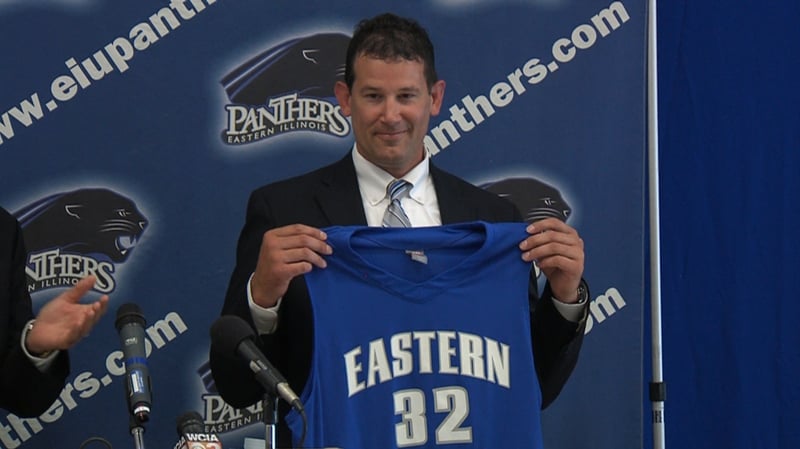 CHARLESTON -- It's not his home, his alma mater, or the campus he's spent 23 years dedicated to serving.

New Eastern Illinois athletic director Tom Michael says, however, he's right where he needs to be.

"I'm honored to accept the position as the tenth director of athletics for Eastern Illinois University," said a noticeably emotional Michael. During a brief press conference announcing his new position, he revealed that 15 years ago to the day -- July 22, 1999 -- Michael's father passed away.

"I know he'd be proud, and there was certainly a little extra emotion in that," he said.

Michael was an Illinois basketball player from 1991 to 1994, and still owns the single-season record for 3-point percentage (.493, 1992). All the while, he completed his masters degree in sports administration.

He immediately took a job on campus and hadn't left -- at least in terms of his career -- until Tuesday.

"It's bittersweet, certainly," said Michael. "Leaving champaign after, really, 23 years being on that campus."

At his announcement were a number of his mentors, including his former coach, Lou Henson.

Also there was current Illinois athletics director Mike Thomas, who promoted Michael to senior associate athletics director in 2012.

"Tom's fingerprints are on a lot of the good that's happened at the University of Illinois," said Thomas. "Not just as a student athlete, but as an administrator."

Not long ago, Michael was the one giving updates on the State Farm Center Renovation project, as the man in charge of overseeing the day-to-day operations of the $165 million project.

"Handing the project off, it's going to be in good hands with (senior associate A.D.) Warren Hood and Mike (Thomas) and everybody else," said Michael, "but I'm looking forward to getting started down here."

"For us, we've had other folks involved in the project," said Thomas. "If he's 1A, we've had a 1B and a 1C. So, I don't think we'll miss a beat there."

Michael, meanwhile, is looking forward. Even on his first day as a Panther, he spouted to catchphrase, "Today is a great day to be a Panther."

He said he's ready to meet with his coaches, and get to work.

"I'm excited about sitting down with them and figuring out what their visions are, what their needs are, and then go shoulder to shoulder with them, to try to enhance each of their programs so that we have a comprehensive athletic department."