Central Illinois Sports Report with Elise Menaker: Multi-Sport Athlete Keegan McHood
Central Illinois Sports Report with Elise Menaker: Multi-Sport Athlete Keegan McHood
Posted: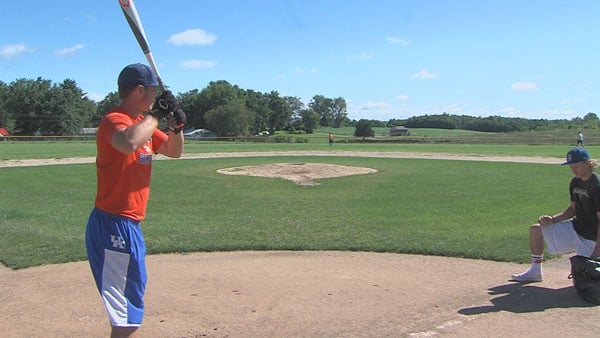 Baseball is a game where size doesn't really matter, but it can sometimes give you an advantage.

One local athlete in particular has used his size and above average talent to earn himself a spot in the best baseball conference in the country, the SEC.

In this week's Central Illinois Sports Report with Elise Menaker meet Keegan McHood who by playing three sports has excelled in one.
"He's an ordinary kid," said McHood's baseball and basketball coach Tom Saunches.
With not so ordinary talent.

The 6 foot 3 inch, 220 pound 17 year old pitches and plays infield for Argenta Oreana High School.

He's also a tight end on the football team and is the best three point shooter on the basketball team.

Next year he'll take his talents to the University of Kentucky.
"Baseball I've always stood out and like even when I go play at other places and I play against the best competition, I've always been one of the better players so that's why I think I chose baseball," McHood explained.
The senior, whose fastball can hit anywhere from the upper 80's to lower 90's has verbally committed to Kentucky.
"I don't really have to block too many balls or anything so it's pretty nice," said junior Cole Banks while catching the pitcher.

"My hand hurts after games sometimes," he said with a laugh.

"He's really accurate, mixes up his pitches really well."
"The sec is the best baseball conference and has been for a long time and to even be recruited by them is an honor but for them to offer money to you as a junior, it just validates everything I've thought of Keegan as a baseball player," Saunches said.
But it's by being not just a baseball player, McHood has had success on the mound.
"He's a hard worker," described head football coach Chad Eisenmenger.

"He's a competitor and like I said, he's very coachable and that's the best compliment I can give a kid."
McHood's been playing summer ball since he was 11 years old and that's what's given him that edge, experience.

Each sport has taught McHood skills that uses in baseball.

A key component of his game, maintaining composure on the mound.

Because whether he's on the baseball or football field, things can always go wrong but having the right attitude can make it right.
"I've watched him play three sports for three years now and i can count on one hand the number of times that I've seen him upset," Saunches said.

"He's as composed as any high school athlete I've ever seen."
That's saying a lot for a man who's been coaching for 43 years.
"He's kind of like the poster child for what you'd like a high school athlete to be like," he said.
But it's in college McHood will have to prove himself.
"It's not going to be that easy," McHood said.

"There's a lot of good players in the sec and i just want to be known as one of the better players, a good pitcher.

You don't have to be the best player on the team to get drafted and go somewhere big by your junior year so I just want to have a successful career there and hopefully move on well from there."
McHood's goal is to make it to the big leagues.

He's already been contacted by several pro teams like the Braves and the Phillies.

And just like the impact he's had at Argenta Oreana he hopes to do the same in college and beyond.
Argenta Oreana came third in class 1-A state tournament this past season the best the team has ever done.

McHood went 11-1 on the season, struck out 132 batters in 74 innings and walked just 26 and gave up around 30 hits.

His batting average: .489.

He says if he had a choice, the pitcher would like to play for the Cardinals one day.