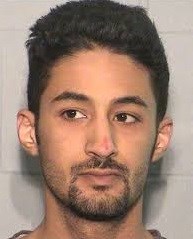 FORSYTH -- State police arrest a man who they say hit a motorcyclist then ran from the scene.

Troopers arrested Mohammed Zuhair S. Abduljabbar, 27, of Manhattan, Kansas, Wednesday afternoon.

Investigators say he was driving westbound on Interstate 72 near the Forsyth interchange, when he hit the rear of a motorcyclist, knocking the rider off. Both Abduljabbar's car and the 58-year-old motorcyclist from Taylorville went into the ditch.

Troopers say Abduljabbar then ran away from the crash site. A witness gave police his description and where he was seen running. State police arrested him 30 minutes later behind Best Buy in Forsyth.

The motorcyclist from Taylorville was taken to a hospital, no word on his condition.

Abduljabbar is now charged with driving with a suspended license, and leaving the scene of a crash, among other charges. He was also wanted on a warrant for contempt of court in Riley County, Kansas.