More than 100 People March in Decatur to Honor Unsolved Murder Victims
Posted: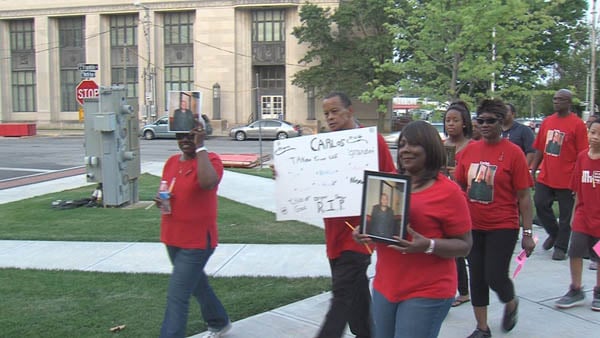 Loved ones lost to murder.
But family and friends continue to fight for justice.
It's called the C.A.W Memorial Walk.
It stands for "Criminals Are Wanted." The walk is to honor murder victims whose cases are still not solved.
Some of the cases are new and some date back twenty years.
But this march is to show that the fight for justice is never-ending.
Mae Stokes is marching for her son, Carlos.
"I'm not giving up," said Stokes "I'm not giving up."
In Decatur's Central Park, she marches with dozens of grieving families who have lost a loved one in an unsolved murder.
"I hope and pray each day that somebody comes forward with that vital piece of information," said Jennifer Hargis, the mother of deceased man, Caleb Witty.
Terry Lewis-Foor lost her twin sister in an unsolved murder. She says information could lead to the arrest of a suspect.
"They don't realize what they really took away from us," said Lewis-Foor. "You know, they took away my twin. They took away a daughter, a granddaughter, a sister. They took away so much from our family."
She says the march is a call to action.
"Start calling in those tips," said Lewis-Foor. "Don't be shy about calling in. If you think something's going on or you think you might no something about one of these cases, call in, you know. Let the police determine if it's good or not."
In the meantime, each family is holding on to something for strength.
"My savior, Lord Jesus Christ and also my family," said Stokers.
Terry said, "I've got to keep hope to keep going. And without hope. What do you got."
More than one hundred people came out to the walk. Organizers tell me that next year, they hope that number is doubled.