Illini Camp, Day 1: Position Battles, Depth, and a Soggy Practice Field
Posted: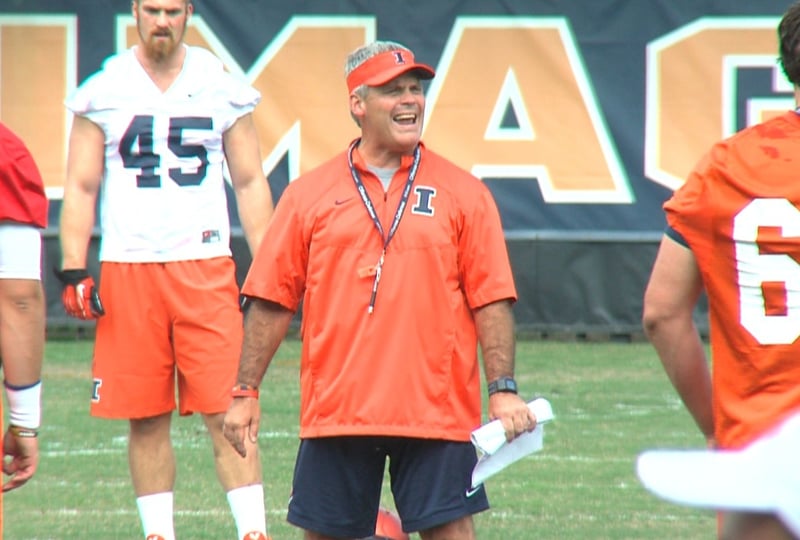 CHAMPAIGN -- There was no shortage of topics at day one of Illinois football camp. Position battles, depth -- and there was even talk about the grass.

"We won't be back out here in the swamp," said head coach Tim Beckman.

He's referring to the practice field adjacent to Memorial Stadium. The wet and mild summer kept the field soggier than normal, to the point that it became a hazard.

"I started there at the end getting really concerned about injury, so I blew (the whistle) early," he said.

On Monday night, the second of Illinois' two split-squad practices was moved to the Memorial Stadium turf, and thus finished day one of camp.

For the first four days of the practice season, the Illini are split into an Orange Team and a Blue Team, a way for coaches to get more individual time with the players.

One couldn't help but notice the Orange Team was made up of presumed starters -- from the offensive line to the defensive backfield. Even more noticeable, among the three-headed quarterback competition, only one was on the Orange Team -- sophomore Wes Lunt.

"I know they're going to switch Reilly (O'Toole) and Aaron (Bailey) and I all up, so I'll probably be going with the blue group next time," said Lunt, whose competition practiced with the Blue Team on Monday night. "They're just going to switch it up and see where the chemistry goes."

Beckman echoed that sentiment, saying the current set-up didn't have any bearing on the QB competition.

However, offensive coordinator Bill Cubit added a little insight, saying that Lunt playing with the starters Monday was no coincidence.

"We thought he was ahead in the spring," said Cubit. "Based on production in the spring, Wes went with the (number one offense) today."

For the first time in awhile, however, the quarterback position will have relatively little experience.

What once were desperate needs at linebacker and offensive line, to name a couple, we now find depth. Far more than there's ever been under Tim Beckman.

"You haven't had that in the last two years," said Beckman. "You've had your starters, and you tried to teach the backups as fast as you could."

"Because we have some position battles, not only at the front, but in the secondary and at linebacker, we feel like it's going to bode well for us," said defensive coordinator Tim Banks, whose defenses have ranked at - or near - the bottom of the Big Ten the last two seasons.

The Illini continue their split squad practices through Thursday. They'll meet together as a full team for the first time on Friday, and will open play at Camp Rantoul starting on Monday.