Dameron Working to Fill Garoppolo's Void in Charleston
Posted: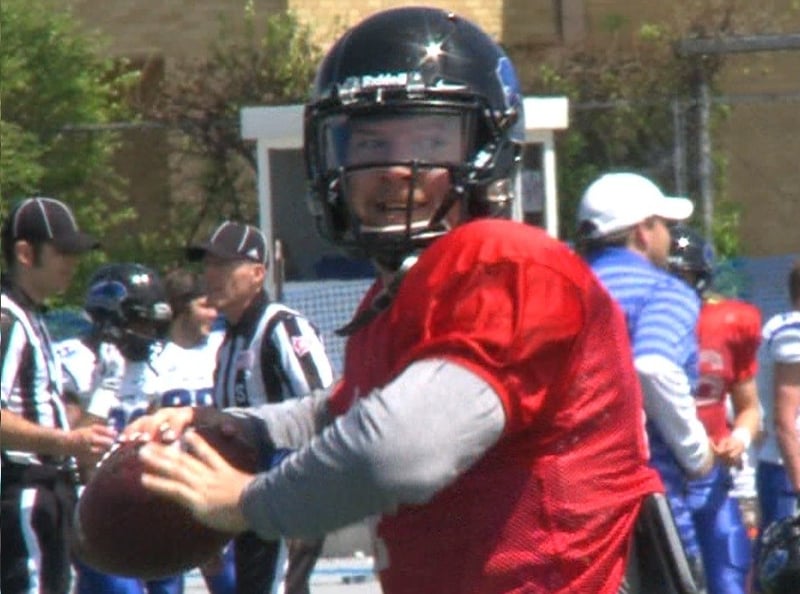 Andrew Manley is EIU's starting quarterback coming into camp.
CHARLESTON -- The task of returning to the postseason is tough enough. Now EIU head coach Kim Dameron gets to do it without a record-setting quarterback.

"He's standing next to Tom Brady, so that's a pretty big void to fill," said the first-year coach.

"He" is, of course, Jimmy Garoppolo. Now a New England Patriot, Garoppolo set records with his 13,156 career passing yards and 118 touchdowns (53 of those in his Walter Payton Award-winning senior season).

In other words, no other team in the country is tasked with replacing a void as big as the one left in Charleston.

Dameron, following his first spring with the team, said he isn't worried.

"We feel good about the fact that we've got some guys coming back," he said. "Andrew Manley came out of the spring as our starter."

Manley comes to EIU from New Mexico State, where he compiled 4,260 yards in parts of three seasons, with a 25-20 touchdown-to-interception ratio.

What's most important, is that Manley has played in 20 FBS level college football games. That experience, and one other offseason addition, is making Dameron a little more comfortable.

"We had some other good players behind him," said Dameron. "We added Jalen Whitlow from Kentucky over the offseason, so we feel good about it."

Whitlow will, not doubt, enter training camp as one of the more talented backups QBs in the FCS. While his Wildcats struggled in the SEC, Whitlow put together passing numbers better than half of his SEC counterparts, including standout performances against South Carolina and Missouri. His playing time was limited down the stretch, and he transferred to EIU in May.

"It's going to be fun to just go out and watch them compete," said Dameron.

The Panthers get an early start to the college football season, with a Thursday game (Aug. 28) against Minnesota on the Big Ten Network.