Illinois Camp, Day 2: Ward, Allison Among JC Transfers Expected to Contribute
Posted: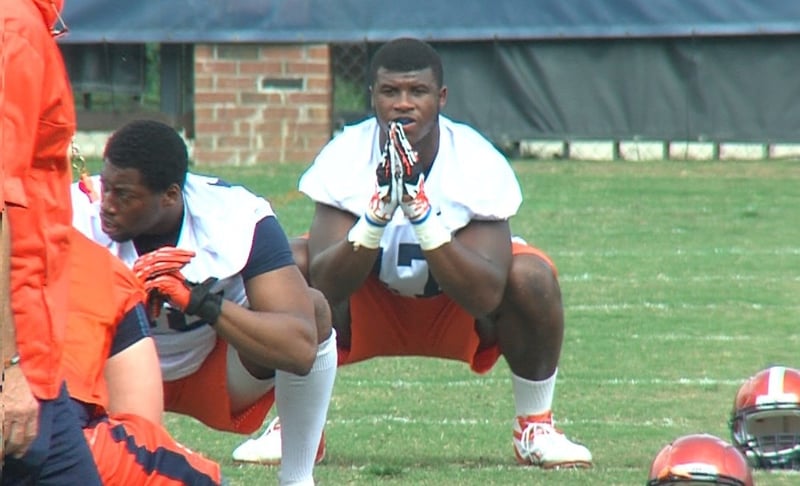 Jihad Ward
CHAMPAIGN -- Depth and experience have been the two glaring weaknesses of Tim Beckman's first two teams at Illinois. Because of that, the third-year head coach filled his 2014 recruiting classic with junior college transfers -- guys he expects to contribute right away.
Five junior college athletes reported to camp this week, and at least a couple are expected to be a big part of Illinois' 2014 season. On Monday, Beckman said that - and the growth of some recruits - is giving him options for the first time in Champaign.
"You haven't had that in the last two years," said Beckman. "You've had your starters, and you tried to teach the backups as fast as you could."
That was evident in the spring, when Iowa Western CC transfer Geronimo Allison took the field with the Illini for the first time. In April, he was already getting rave reviews from the coaching staff, who believed he was becoming a leader of the receiving corps.
"Right now he might be at the top of the list," said offensive coordinator Bill Cubit. "He's got really great ability. He's tall and lanky, but he's a quick-twitch type of guy."
Similar things are now being said of Jihad Ward -- with the exception of the "lanky" part. The 6-foot-6, 295 pound defensive lineman signed with Illinois in January, coming from the Globe Institute of Technology in New York.
Scout.com
rates him a 4-star defensive end, and
Rivals.com
lists him as a 3-star defensive tackle.
The Illini are hoping he's the run-stuffer they need -- last year, Illinois ranked last in run defense in the Big Ten.
"He's a great person, and I think that's what you need -- a group of good guys that you can corral together to be one," said junior linebacker Mason Monheim. "That starts with effort, and he works hard."
"You're talking about a poster-child for what you want a student athlete to look like, act like, the way he carries himself," said defensive coordinator Tim Banks, who's only had Ward for one practice as of this writing. "No matter how he did, we know he's going to get better because he has that work ethic. So, we're excited about him."
Here's the list of the junior college transfers new to the team in 2014:
Geronimo Allison, WR -- 6-4, 195 lbs., Iowa Western Community College
Jihad Ward, DL -- 6-6, 295 lbs., Globe Institute of Technology (NY)
Tyrin-Stone Davis, WR -- 6-3, 195 lbs., Pierce Community College (CA)
Joe Fotu, DL -- 6-3, 285 lbs., Laney Community College (CA)
Carroll Phillips, LEO -- 6-3, 230 lbs., Copiah-Lincoln Community College (CA)