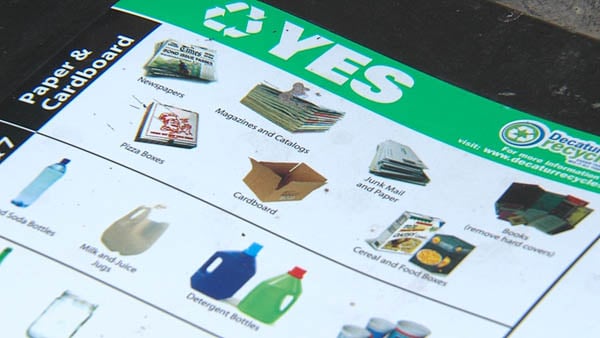 DECATUR-The blue recycling bins are easy to use. They tell you exactly what you can put in right on the lid and you don't have to sort it. And the simplicity is why city leaders say more people are recycling.
More than 15 thousand bins go out on Decatur's curbs. That's 57 percent of the eligible households in town. The city hoped to have 30 percent participation by 2035, but they've clearly surpassed that.
"Last year, there were 7 point 8 million pounds of recyclables," Assistant City Manager Billy Tyus says. "So to put that in realistic or real world terms. That's like nineteen hundred average size cars in terms of weight."
Tyus says they've had discussions about bringing some apartment complexes into the program, which are currently excluded because of size.
"If it's a facility of six units or less, then it's eligible for the city's recycling program, but if it's more than six units, then they'd have to utilize a commercial hauler," Tyus says.
There are no plans just yet to include the larger complexes. Tyus says they're very thankful to see the support for recycling overflowing.