Illinois Coaches Heaping Praise on Freshman Malik Turner
Posted: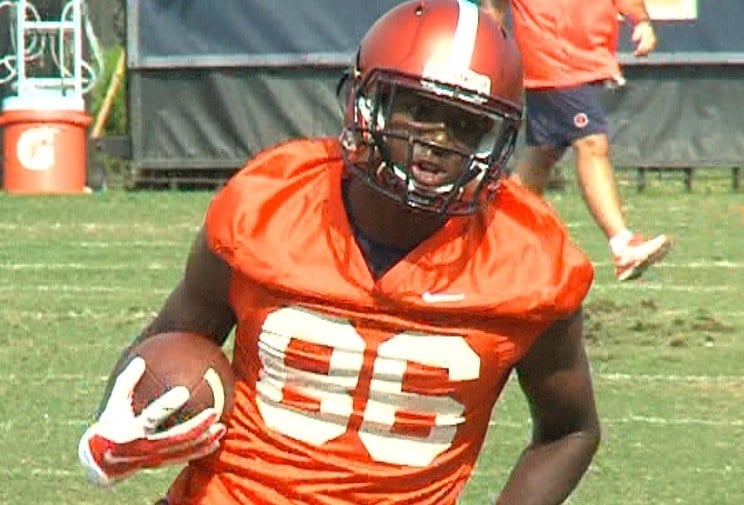 Freshman WR Malik Turner
CHAMPAIGN -- One of the most common questions early at any training camp is: Who are the biggest surprises?

Most know the seniors, the skill players, and those that have compiled the stats. However, at Illinois, they'll very likely need one of their unknowns to break out in 2014 if they hope to snap a two-year bowl drought.

The list is short, here in just the first week of camp, but there's one name being mentioned more than any other.

"Malik Turner's caught my eye," head coach Tim Beckman said Wednesday.

Offensive coordinator Bill Cubit weighed in, when asked about the pleasant surprises at camp. "I thought Malik Turner," he said.

Unsolicited praise. You have to like that if you're the true freshman wide receiver.

Consider, just more than 8 months ago, he was helping Sacred Heart-Griffin win a high school state title. That thought surprises even his coaches.

"He doesn't play like he's 18-years-old," said Beckman. "Honestly, what separates him for me -- I'm challenging some of those upperclassmen -- (is that) he works hard."

He arrives at Illinois during an interesting time for receivers. The team lost their top four wide receivers (in terms of yards) from 2013.

While Josh Ferguson returns (2nd on the team with 535 yards on 50 catches in 2013), the battle for the WR reps is fairly wide open.

Combine that with intrigue over a new quarterback, and Cubit's pass-friendly offense, Turner knew even when he committed in June of 2013, there was a real opportunity for him to step in right away.

For him, that started with the offensive coordinator.

"I know that since (Cubit) is there, more receivers will want to go that way, towards Illinois," Turner told WAND when he committed. Also of note, Turner's commitment came about a week after the announcement that QB Wes Lunt would be transferring to Illinois. Both former CS8 stars will be eligible to play at Illinois for the first time on August 30th.

Most believe Turner was underrated as a recruit, due to an injury in his junior season at SH-G in which had had just 16 receptions -- most of them in the playoffs. Because of that, those same people believe he was under-recruited.

After a 22 TD, 1,378 yard, championship season his senior year, that may have worked to Illinois' benefit.

"We thought he was going to be good," said Cubit. "We haven't seen him all summer, but he's got some really good talent out there."

"He works extremely hard," added Beckman. "You can tell he comes from a winning program."