Garoppolo Shines in Preseason Debut: "After one or two plays, it's just football."
Posted: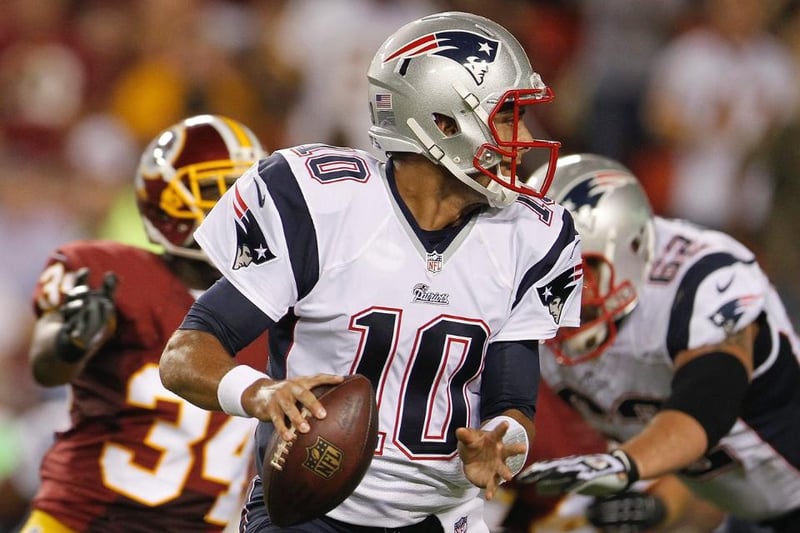 Jimmy Garoppolo (AP Photo)
LANDOVER, MD -- Jimmy Garoppolo isn't far removed from his college career, but he's already got an NFL fanbase buzzing.

No, he's not likely replacing Tom Brady any time soon, but the Eastern Illinois grad showed his staying power in his first preseason game with the New England Patriots.

"We struggled at times today, but we were clicking at times, too," said Garoppolo, of the New England offense. The Patriots were shut out by the Redskins for the first 58 minutes of their preseason game on Thursday night.

In truth, the only think that seemed to "click" was Garoppolo, in the 4th quarter.

With 1:23 left in the game, Garoppolo unleashed a beautiful pass over the Redskin secondary, and into the hands of Brian Tyms, a 2nd-year wide receiver. It went for a 26-yard TD -- the only score of the game for the Patriots, who lost 23-6.

Garoppolo finished 9-of-13 for 157 yards, the TD and a 135.7 rating.

"After one or two plays, it's just football," Garoppolo said after the game. "You just have to go out there and do what you always do. The rest will take care of itself."

Brady sat out the opener, and 4th-year QB Ryan Mallet started the game, only managing 5-of-12 passing for 55 yards.

Garoppolo's first action came in the first series of New England's third quarter. He said his parents, brothers, and grandpa were in attendance Thursday to see him take the field for the first time as a pro.

He said he just needed a couple snaps to adjust to the speed of the NFL game.

"It's definitely fast. Faster than college, that's for sure. It's something you have to adapt to though, and you have to adapt quickly in this environment, and we're doing a good job of that."