Beckman 'Fired Up' on Eve of Camp Rantoul
Posted: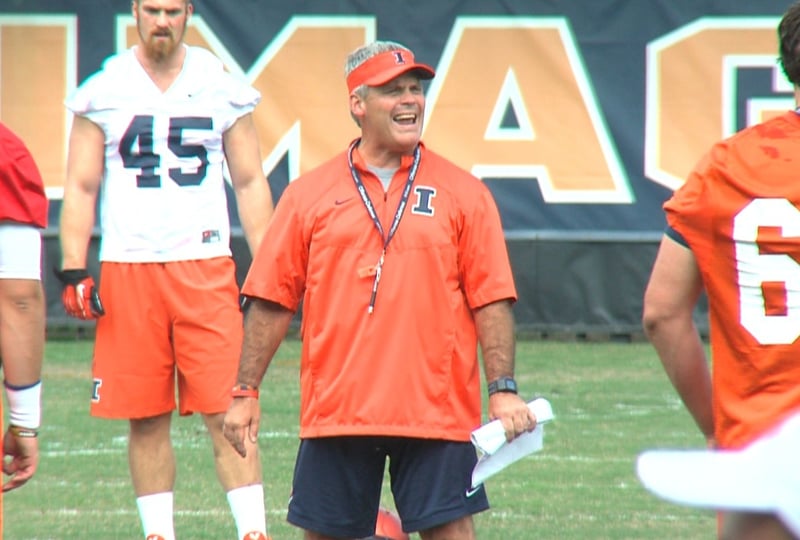 CHAMPAIGN-- The Fighting Illini football team kicks off Camp Rantoul Monday morning on the former Chanute Air Force Base. The team left for camp early Sunday evening, after spending the afternoon at Memorial Stadium for Media Day and Fan Appreciation Day.

"I'm fired up," Head Coach Tim Beckman told the media. "It's football 24 hours a day...the special thing about Rantoul is the kids get to experience football in a different light...in an NFL-type atmosphere."

Beckman fielded questions from the media for about 30 minutes. The most frequently asked questions had to deal with the quarterback position. Beckman expects the competition to heat up over the next couple days.

"They've been battling great. They're fun out there to watch." Beckman says the team could name a starter possibly as early as next weekend. "Sometime around the end of Rantoul...couple days back here...then we'll have to make a decision."

Beckman also didn't rule out the possibility of using all three quarterbacks (Wes Lunt, Aaron Bailey, Reilly O'Toole) this season.

"We can (use multiple QB's), I've done it at Toledo...been very successful doing it. You can get some defensive coordinators scrambling."

The team will take the field tomorrow morning at 9 am for the first of two practices. The 2nd practice will take place at 5:30 pm. All practices in Rantoul are open to the public.