Intensity Ramps up For Day One of Camp Rantoul
Posted: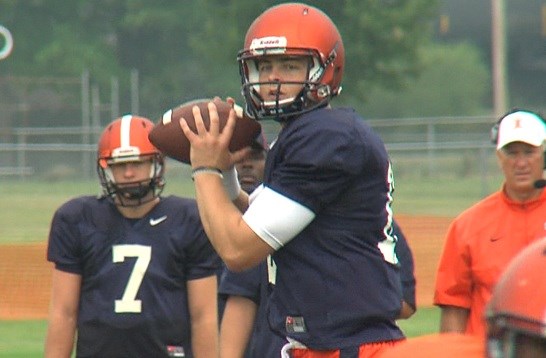 RANTOUL -- Seclusion breeds intensity. That's the belief when the Illini make their annual trip to Rantoul.

There is something to be said for eight days, 24 hours a day with no school, and nothing but football.

"Not everybody gets to do these types of things," said Illinois head coach Tim Beckman, equating Rantoul to an NFL camp. "That's very unique."

"Classes are over, so now those kids can really just hone in on football," said defensive coordinator Tim Banks, entering his third Camp Rantoul.

It's the 13th year of the camp, which takes place at the old Chanute Air Force Base. Offensive coordinator Bill Cubit talked about returning for a second year.

"I think I got the same room," said Cubit. " Felt like I was right back at home."

It's familiar to the head coach and both coordinators. It's been a few years since an illinois staff could say that.

The continuity -- even just a little bit of it -- showed Monday.

Cubit, who spent most of his time with the QBs, said the comfort with the staff clearly has passed on to the players.

"We're so far advanced from where we were last year in trying to teach," Cubit said. "I thought Nate (Scheelhaase) was really good where he was at (last year), but we didn't have the other guys up to par. Now, all we're doing is meeting with the wideouts and the quarterbacks every single meeting -- all on the same page."

As camp opened Monday, the elements gave them a little challenge. Beckman said while the field was in great condition, it was wet from a few days of rain, and the offense looked less-than-crisp during some drills.

The Illinois defense may have something to say about that, however. It was easy to see the improvement with the front-7, particularly the line. Additions like JC transfer Jihad Ward, and work from senior leaders like Austin Teitsma, were noteworthy in the first practice at Rantoul.

For the Illini, that's a game changer.

"If those guys are playing at the level we're demanding, I think good things could be on the horizon, because it all starts up front," said Banks.

The lllini have ten practices in the eight days in Rantoul. They'll return to Champaign on August 19th.