EIU QB Situation Unclear Two Weeks Before Opener
Posted: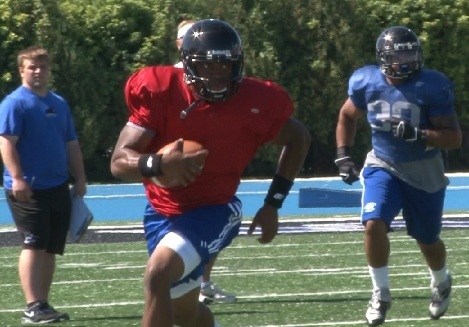 Jalen Whitlow
CHARLESTON -- Just two weeks ago, it all seemed so clear.

"Andrew Manley came out of the spring as our starter," said EIU head coach Kim Dameron, on the first day of training camp. "We had some other good players behind him."

The QB position was set -- Jimmy Garoppolo's replacement would be Manley, the New Mexico State transfer. At the very least, it was his job to lose.

While Kentucky transfer Jalen Whitlow has his share of FBS experience, Dameron felt confident enough -- on the first day of camp -- to make that definitive statement.

After practice Wednesday, that picture blurred a bit.

"I just think right now it's way too early to be making any assumptions," he said, when asked about how he'd use the quarterbacks.

Manley played in 20 games for NMSU, where he compiled 4,260 yards in parts of three seasons, with a 25-20 touchdown-to-interception ratio.

Whitlow put together passing numbers better than half of his SEC counterparts, including standout performances against South Carolina and Missouri.

The only thing we now know for sure, is that the Panthers won't use both, at least as part of the plan.

"I don't want to tip my hand, but I don't see doing that, to be honest with you," Dameron said.

EIU is less than two weeks away from their season opener at Minnesota, and according to Dameron, they may take every all of that time to make a decision.

"Both of them do good things, and we're going to continue to evaluate them all the way up until game week, game time," he said.

EIU's opener will air on the Big Ten Network, 6pm CT on August 28th.