Little Suspense Ahead of Illinois QB Announcement
Posted: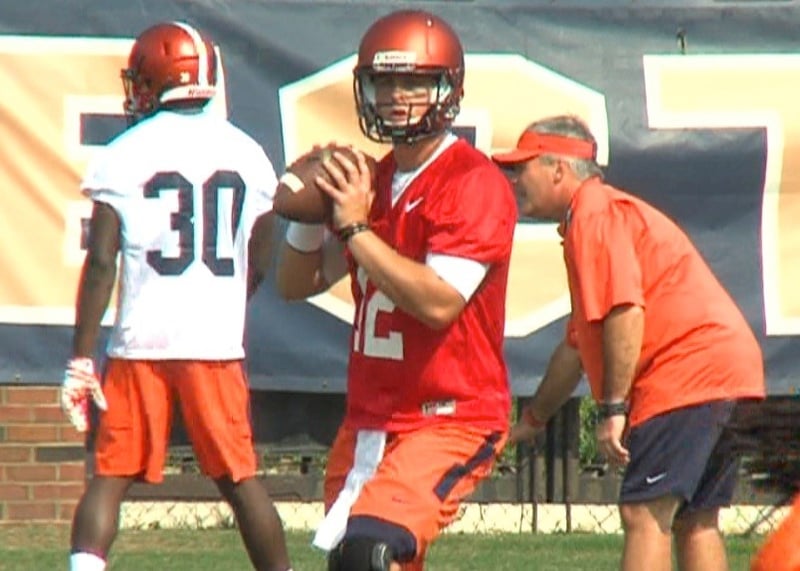 CHAMPAIGN -- Some are calling it the worst-kept secret in the Big Ten -- Who will be Illinois' starting quarterback?

On the first day of camp, offensive coordinator Bill Cubit said, despite the splitting of reps among Wes Lunt, Reilly O'Toole, and Aaron Bailey, Lunt came out of the spring as the number one guy.

It's also been clear throughout camp. Lunt, once a budding superstar at Oklahoma State, has grown in the more than 14 months he's spent with the Illinois football program.

Illinois head coach Tim Beckman said he'd reveal his opening day starting after a morning practice session on Wednesday.

Lunt, who has a chance to be the starter for his the Big Ten team in his backyard, was diplomatic in his response.

"Whatever coach wants to do - announce it -- we're just going to let it happen. As an offense, we're just going to work every day to get better to prepare for Youngstown State."

The decision would not be an criticism of O'Toole and Bailey. O'Toole had been a strong backup to Nathan Scheelhaase, even starting a number of games in 2012.

Bailey was mostly used in 3rd/4th and short situations, though to success early in 2013. A shoulder injury late at Camp Rantoul, and general concerns about his accuracy have kept him behind Lunt for much of camp.

"We've got three Division I quarterbacks that could be starters," said Beckman. "You don't have that situation much, really in college football."