It's Official: Wes Lunt is Illinois' Starting Quarterback
Posted: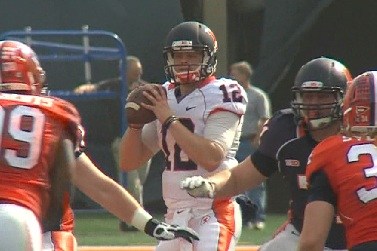 CHAMPAIGN -- It may have been the least suspenseful announcement of the Illinois training camp season, when the three-man battle for Illinois' starting quarterback job came to an end Wednesday morning.

Wes Lunt will start vs. Youngstown State on August 30th.

Head coach Tim Beckman made the announcement, as promised, after Wednesday's early practice session, ten days ahead of Illinois' opener.

Lunt had been "in the lead" for the job since the spring, at least according to offensive coordinator Bill Cubit. He beats out sophomore Aaron Bailey, and senior Reilly O'Toole.

O'Toole was by far the most experienced in the group, with 23 games and 170 attempts under his belt at Illinois. His percentages are strong (68.8% passing, 121.9 rating), but he has a career 8-to-9 touchdown-to-interception ratio

Bailey appeared in nine games in 2013, attempting just 5 passes. His running ability earned him a situational role with the team -- he rushed for three touchdowns and compiled 83 yards on 20 rushing attempts.

Tabbed as a guy that can "make all the passes", Lunt will debut to high expectations in Champaign.

He hasn't played a competitive snap since the 2012 season, but coaches saw enough in his 14 months with the team to give him the job. He debuted to rave reviews at Oklahoma State, throwing for 1,108 yard at a 137.3 rating in parts of six games for the Cowboys. When he lost another three-man QB battle in Stillwater, he transferred to Illinois.

Lunt graduated from Rochester High School in 2012, after leading the Rockets to their first state championship in a current run of four straight in the state of Illinois.