Lunt on Getting QB Job: "That's Why I Transferred Here"
Posted: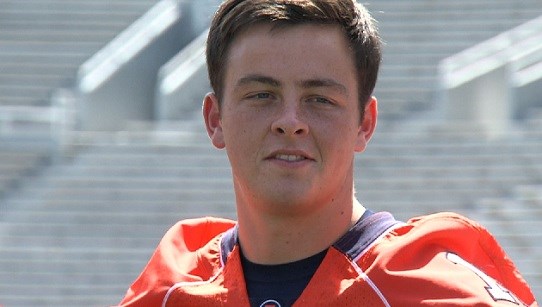 CHAMPAIGN -- Illinois head coach Tim Beckman ended the speculation right away.

lllinois' starting punter would be Justin Duvernois.

It was a little humor, ahead of a less-than-suspenseful QB announcement.

"(After) 1,200-plus snaps, 750 passing attempts, it was a tough decision," said Beckman. "We've got three very capable quarterbacks. Wes Lunt was the one that ended up performing in the end."

Wes Lunt, the Rochester graduate who was briefly a freshman phenom at Oklahoma State, is now the 20-year-old starting quarterback for the Fighting Illini.

Offensive coordinator Bill Cubit met with Lunt, Aaron Bailey, and Reilly O'Toole individually Wednesday morning.

"We just thought (Lunt) was the best one, and gave us a chance to win right now," said Cubit.

Lunt called it a dream come true.

"It's something that I wanted to happen really bad," he said. "That's why I transferred here. I'm just really thankful and blessed for it to happen."

According to Cubit, Lunt was the number one guy coming out of the spring. Throughout Camp Rantoul, which was almost entirely open to the public, it became clear that Lunt was a head above his competition.

From the outside, there wasn't much doubt about the outcome of the QB battle. Inside, Beckman said he was more concerned with preparing all three to be the starter.

"This doesn't mean this is forever," said Beckman, sending a reminder to his sophomore QB. "You better still keep on competing and still keep on playing. It's just like any other position."

Bailey and O'Toole will now split second team reps, knowing their time may not be far away.

"I feel like I gave it my all each and every day, said Bailey, who saw limited time on the field as a true freshman in 2013. "I feel like each day I progressed, so there are no hard feelings for me."

"Even if a helmet falls off, you still have to go in there for a play, so you've always got to be ready, and I'm going to prepare like I'm a starter," said O'Toole, who has appeared in 23 games for the Illini in the past three seasons.

Now for a bit of reality: Lunt hasn't taken a competitive snap -- or a real hit -- since the 2012 season, when he lost a QB battle in Stillwater.

Now that the decision is made, Lunt will shoulder the task of proving it was the right one.

"There's going to be some moments out there," said Cubit, understanding that the terms "young" and "inexperienced" still apply to his starter, "but I think his athletic ability and his football knowledge and his throwing arm -- that's going to make up for some of those."

"I think my mentality is going to stay the same," said Lunt. "I've been preparing to be the starter, and so have the other guys since camp and since spring. I'm just trying to do the little things, and get better every day."