One Decatur Food Pantry Uses Cooking to Get People Off the Streets and Into College
Posted: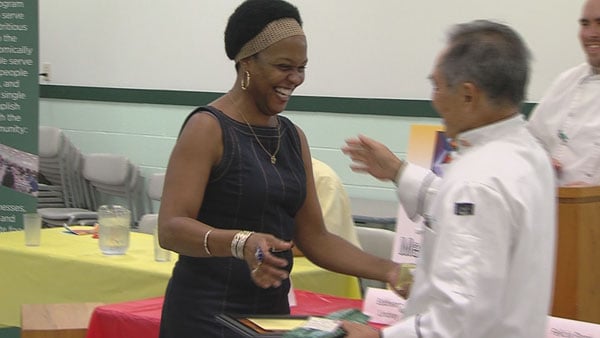 Felicia Parris stands before family and friends with confidence.
She's a proud graduate, but getting to this point wasn't easy.
"Because I had previously been in trouble with the law out in Arizona, it was very hard for me to get employed here," said Parris. "So, when I heard about the Mercy Kitchens program, I got right into it."
Mercy Kitchens offers culinary-based job training at Decatur's Good Samaritan Inn, a local food pantry. Wednesday, it graduated its first class of three, awarding them a Food Sanitation Certificate. Brian Tucker is a Decatur-based chef that overseas the program. He says the certificate is a gateway to entry-level jobs in the food industry.
"Mercy Kitchens was this great idea about really giving some workforce training in the culinary arts and the hospitality field to some of the patrons that were coming to the inn," said Tucker.
Eddreana Lindsay originally came to The Good Samaritan Inn for food to eat. Soon after, she became a volunteer in the kitchen, and then enrolled into the Mercy Kitchens program.
"You go through so many things in life, and then you don't have people to believe in you," said Lindsay. "To tell you that you can keep on going, just give you words of encouragement. And Mercy Kitchens did that for me."
It did the same thing for graduate, Angela Burkart.
"I know this is definitely going to open up a door that I haven't had so far."
The three graduates say the best part of the program is that it feeds directly into Richland Community College's culinary arts degree program. Felicia is already enrolled, Eddreana starts in the spring, and Angela hopes to apply next year.
"You can do it," said Eddreana. "And anybody in your life that has told you that you can't is a liar."
The Good Samaritan Inn is taking applications now for the next session, which starts on September 15, 2014.
You have to have a GED to be accepted, but if you don't, the Inn also has an accelerated program for you to earn that as well.