Female Soccer Player Suiting Up to Help Southeast Football Kicking Game
Posted: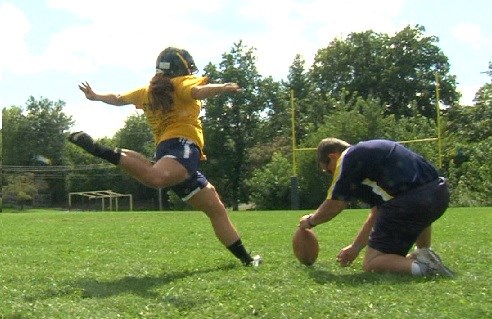 SPRINGFIELD -- The role of the high school kicker is more important than many -- even coaches -- give it credit for.

An accurate leg can make the difference between missing or making the playoffs.

That's why the Southeast High School football team is taking an unconventional approach to their kicking game. They picked up a player on their varsity soccer team.

To be more specific: From the girls varsity soccer team.

"You get in the red zone, you want points," said Southeast head coach Matt Lauber. "That's what we're hoping she's going to be able to do for us. give us points when we're in the red zone."

Alyssa Miller will be a four-year varsity letter-winner in soccer next spring. It was the sport her whole family played, and the one she grew up loving.

When Miller heard the team graduated their kicker, and had no one trying out for the position, she offered her right foot.

"She came to me and talked about wanting to kick, and she's done a great job. She's working hard," said Lauber.

In just the second week of Miller's first training camp, she's assumed all of the kicking duties -- field goals, kickoffs, and punts. She admits, there have been a few kinks to work out.

"I mean I'm doing pretty decent," she said. "It is trial and error sometimes, just because of going from a completely round ball to an oval. There are techniques you have to adjust and learn to."

That's not to say she isn't a natural. Miller has tested that leg, to the tune of a 45-yard field goal. She already has visions of game-winning kicks versus CS8 foes like Sacred-Heart Griffin and Rochester.

"In practice, getting into a game-like situation for me just helps me build the confidence I can hit it," she said.

It hasn't escaped Miller that football is, of course, a full contact sport -- even for kickers sometimes.

For her, it isn't a fear of getting hit. It's the thrill of being able to deliver one.

"I'm kind of excited about it," she said, with a laugh. "Everybody's like 'Oh, what are you going to do when they tackle? You're a girl... blah, blah, blah.' It doesn't matter. Some of those boys out there are tiny, and I get some of them are really big, but I have to protect the people who protect me."

That's exactly what she has at Southeast -- a group of athletes there to protect her.

It's made the unconventional tryout feel pretty normal.

"It's kind of cool. Hanging out with the guys, it's like gaining 80 brothers," she said.

"They've treated her like one of their own," said Lauber. "They've taken care of her, They're not giving her a hard time. She's one of the guys, basically. Just a teammate."