Illini Score Three Times in 4th to Hold Off Youngstown State, 28-17
Posted: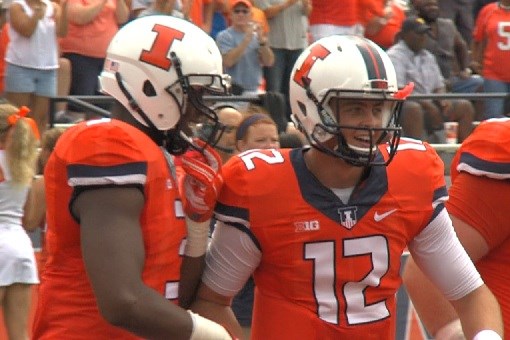 CHAMPAIGN -- It almost looked like a lost season three quarters into Illinois' 2014 campaign.

Wes Lunt wasn't overly impressive, the defense couldn't stop the run, and the Illini were down 9-7 to an FCS team.

It was the worst nightmare for the optimistic Illinois fan, and validation for the pessimists.

That is, until Illinois rolled off 21 points in the 4th quarter to eventually hold off Youngstown State 28-17.

Redshirt sophomore Wes Lunt, making his Illinois debut, finished with a clean stat line -- 24-38 (63%) for 285 yards and four touchdowns -- but he and the offense were slow to get to a productive level.

Lunt was nearly intercepted twice, and the game plan was admittedly more conservative early in the game -- the Illini managed just one first down in their first three possessions.

"Everything I saw today was fixable," said head coach Tim Beckman, "I think that as Wes responded, the offense responded."

"I think I was more anxious than anything, trying to do too much too early," said Lunt. "Not setting my feet, not doing all the little things I've been doing all camp. So, I just need to watch the film and learn from it."

Once things did click, the offense was dynamic. True freshman Mikey Dudek caught three passes for 61 yards and a touchdown. That score put the Illini up 14-9 briefly in the 4th quarter.

Youngstown State responded with a Martin Ruiz touchdown. The YSU runningback ended up with 116 rushing yards on 33 carries.

A two-point conversion gave the Penguins a 17-14 lead with 10:57 left in the game.

"They had to dig down deep," said offensive coordinator Bill Cubit, after the Illini fell behind 9-7 and 17-14 in the 4th quarter. "That's twice now you've got to answer they challenge, and they did."

Lunt then led two scoring drives, the first ending on a 15-yard TD strike to RB Josh Ferguson, and the second, a 29-yard lob to senior WR Martize Barr.

The defense forced a punt and a turnover on downs in YSU's final two possessions to hang on for the win.

"I'm proud of the way that this football team responded," said Beckman. "Yeah we'll learn from the first three quarters, but I'm very proud of the way that they continued to fight."
Lunt's 285 yards and four touchdowns were both records for an Illinois quarterback in their debut, and he had help from many of their newcomers. Freshman Malik Turner added four catches, and JC transfer Geronimo Allison caught two passes for 43 yards.

Junior V'Angelo Bentley picked up where he left off on special teams. The Big Ten's leading return man took a YSU kickoff 67 yards, setting up Illinois' first touchdown in the 2nd quarter.
It was the first spark for an Illinois team that came out stagnant to that point.

"Just to get it going, and get the energy back on the sidelines was a great feeling," said Bentley.

The Illinois defense struggled to stop the run for much of the game, allowing 203 rushing yards, including 43 to Penguin QB Dante Nania, who was making his first start.

Youngstown State held a 337-204 advantage in total yards at one point in the 4th quarter, finishing with a 375-363 edge.

"I think we did it good enough," said defensive coordinator Tim Banks, of the team's ability to stop the YSU running game. "I think there are things obviously we've got to do a little bit better, and I know those kids will watch it, and we'll make the proper adjustments."

The Illini host Western Kentucky next Saturday.