Rolling With the Changes: Millikin Set for 2014 Season
Posted: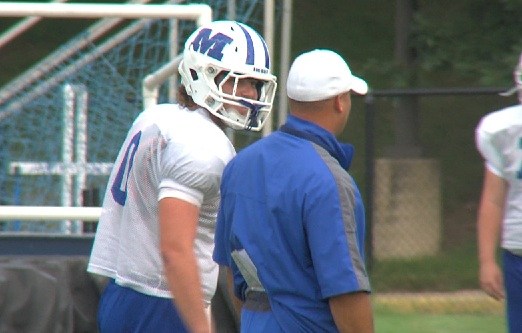 DECATUR -- You can't improve if you don't change.

It's a philosophy the Millikin Big Blue football team embraced heading into the 2014 season.

"Some quarterbacks are at tight end, some offensive guys moved to defense, defense guys to offense," said head coach Patrick Etherton, just days before the season opener at Greenville College. "(We're) really just trying to find who are our best 11 guys, get them on the field, and let them run around."

One of the moves includes shifting sophomore QB Tucker Schwengel -- a Shelbyville standout -- to tight end. Schwengel came in competing for the quarterback job in 2013.

That's a job Nick Pippin now has firmly in his grasp, and Etherton said he couldn't justify keeping Schwengel on the bench.

"We let him have a chance, and we put him at tight end, and he's doing a great job," said Etherton. "He's going to be there. he is a great athlete, he moves around really well."

The biggest change will be at runningback. Pre-season All-American Sean Dunning is out at Millikin, due to academic ineligibility. Dunning rushed for a school record 1,520 yards and led the CCIW in rushing and all-purpose yards last season.

Millikin will look to three players to fill that void. Senior Justin Brooks will lead the way, with contributions expected from sophomore Jacoby Sims and freshman Isaiah Townsend

"They're different than Sean was, but they're very talented players, and we're excited about those guys," Etherton said.

Millikin's season opener is in Greenville at 1pm. The Big Blue will open up the home schedule on September 27th.