Illini Take Advantage of Late Turnovers to Knock Off Western Kentucky
Posted: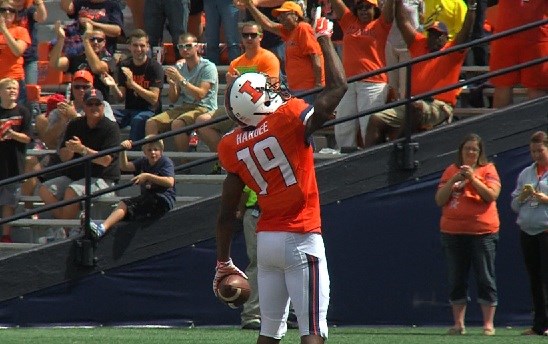 CHAMPAIGN -- Turnovers are either a football team's best friend or worst enemy.

The Illini experienced both extremes in a 42-34 win over Western Kentucky Saturday.

Illinois found itself trailing in the fourth quarter for the second week in a row, falling behind when WKU's Wonderful Terry stripped WR Malik Turner of the ball on the Hilltopper 5-yard line. Terry returned it 95 yards for a go-ahead touchdown.

The Illini took the momentum back during a two-minute, 12-second sequence in the 4th. Illinois regained the lead when QB Wes Lunt connected with senior WR Justin Hardee for a 61-yard score.

On WKU's next drive, Illinois free safety Taylor Barton intercepted a pass by WKU QB Brandon Doughty. Barton caught it in stride, and returned it 77 yards for a touchdown.

"Turnovers are huge. We didn't have a bunch last year like we wanted. It's something we emphasize every day," said Barton, who ran in for his touchdown untouched.

"Catching it in stride helped," he added.

Doughty and the Hilltoppers set a handful of school records the week before, including points (59) and yards (702). Illinois held them to 400 yards, including 103 rushing -- with just two rushing yards in the 2nd half.

"They ran the ball a little bit more than they showed on film," said defensive coordinator Tim Banks. "Once we showed it to the kids, the understood exactly how they were getting attacked, and my hat's off to our guys because they understood it, and went out there and executed."

Lunt continued the statistically impressive start to his Illinois career, going 35-of-50 (70%) for 456 yards, 3 TDs, and an interception.

The yardage total was a new career high, passing his previous mark of 436, which he set at Oklahoma State in 2012.

Even with the big numbers, Lunt said he thinks their offense isn't really clicking yet.

"The passing was successful today, but it can be better," said Lunt. "We missed a lot of throws, the running game, and little things like the QB-center exchange. That should never happen."

The offense certainly lacked balance. Lunt's 456 yards passing were the 2nd-most in Memorial Stadium history. The running game managed just 64 yards.

If you take away sacks, and the two kneel-downs to end the game, Illinois' rushing attacked managed 84 yards on 30 carries - a mere 2.8 yards per rush.

The Hilltoppers stuffed Illinois on a 4th and goal at the WKU 1-yard line early in the game. Head coach Tim Beckman says he won't tolerate that.

"If it's 4th and inches, we're going to go for it," said Beckman. "You go for it, you run the play, and you put it in the endzone."

There were also concerns about the kicking game. Illinois kicker Taylor Zalewski missed two field goals, from 34 and 50 yards. The Illini were also penalized for a third time in two games for kicking the ball out of bounds on a kickoff.

"That's going to be a fun challenge this next week," said Beckman, using the word "fun" sarcastically. "If you're not performing at a rate that this team and this family needs, then there's got to be competition, and we've got to find somebody that can make them."

Illinois' week three matchup got a whole lot more interesting later in the day Saturday, as Washington survived a scare, beating perennial FCS power Eastern Washington 59-52. The Washington defense allowed EWU QB Vernon Adams to throws for 475 yards and seven -- yes, seven -- touchdowns.

Illinois will pay a visit to Seattle on Saturday, for a 3pm CT kickoff against the Huskies.