Lunt, Dudek Earn Big Ten Weekly Honors
Posted: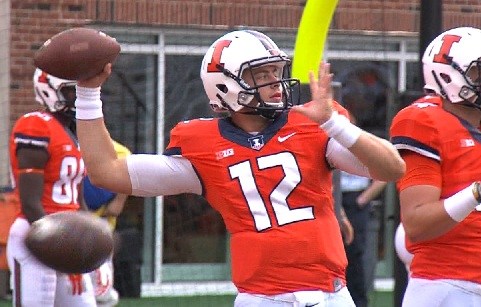 ROSEMONT, Ill. (via fightingillini.com) - Illinois sophomore quarterback
Wes Lunt
was named Big Ten Co-Offensive Player of the Week and freshman receiver
Mike Dudek
earned conference Freshman of the Week honors on Monday after helping the Illini to a 42-34 win over Western Kentucky. Both are the first weekly honors of the 2014 season for Illinois players.
Steve Hull
was the most recent Illini to be named Offensive Player of the Week, earning it on Nov. 25, 2013, while Dudek is the first Illini to be named Freshman of the Week since
Aaron Bailey
on Sept. 30, 2013.
Lunt posted the second-most passing yards in Memorial Stadium history and fourth-most in UI history in the Illini win, completing 35-of-50 passes for 456 yards and three touchdowns with only one interception. He engineered Illinois' second-straight fourth-quarter comeback, completing 10-of-11 passes for 154 yards and a score in the final stanza of Saturday's game. In two starts for the Illini, Lunt has passed for an eye-popping 741 yards and seven touchdowns, both school records in the first two starts of a quarterback's career. He ranks fifth in FBS in passing yards per game (370.5 ypg) and passing touchdowns (seven), and seventh in total offense (361.5 ypg) and completions per game (29.5).
Dudek posted his second-straight game with a receiving touchdown, becoming the first Illini newcomer to do so since junior-college transfer
Kelvin Hayden
in 2003. He had four catches for 55 yards on the game, including a 32-yarder in the first quarter.
Lunt shared Offensive Player of the Week honors with Minnesota running back David Cobb, Iowa defensive end Drew Ott was named Defensive Player of the Week, and Nebraska punter Sam Foltz earned Special Teams Player of the Week.
The 2-0 Fighting Illini have five home games left in 2014. Single tickets for the Sept. 20 game against Texas State are $39 each, while Family 4-Pack tickets, which include four tickets, four hot dogs and four drinks are just $49 total. Tickets for Illinois' four Big Ten home games - Purdue on Oct. 4, the Homecoming game against Minnesota on Oct. 25, Dad's Day against Iowa on Nov. 15 and the regular-season finale against Penn State on Nov. 22 - are $49 each.