Decatur Staleys the birth of the Chicago Bears
Posted: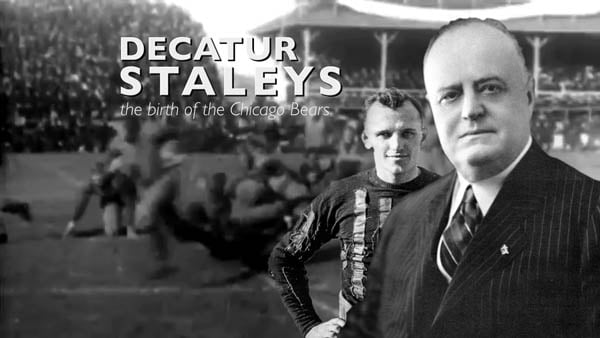 Some say it started in the library of a Decatur home, the NFL and our very own Chicago Bears.
Then known as the Decatur Staleys.

Today a team that Forbes has valued at $1.7 billion.
But for one Decatur man, it was never about the money -- it was about fulfilling his dream and now the world will know how that dream began.

It's all in WAND's Elise Menaker's special report.
Stadiums filled, glasses filled up, barstools lined with football fans to watch the big event every Sunday, sometimes Super Bowl big.

The NFL is a billion dollar industry now but it's a league with humble beginnings.

Surrounded by corn fields, factories and through the smokey haze, a corn processor plant and one man that started it all.
"A.E. Staley was the kind of man who when he saw something that he wanted and was a great opportunity he took advantage of it," explained Julie Staley, President of the newly formed Staley museum.
Augustus Eugene Staley, founder of A.E. Staley Manufacturing Company, one of the biggest corn processors in the world.

Today known as Tate & Lyle.

He was an innovative business man with a love for sports.
"It seems that every venture that he started, whether it was person or business, seemed like everything he touches turned to gold," Staley said.
Or in this case orange and blue.

He started a company football team called the Decatur Staleys.

But even for the man who did everything big, back in 1920, there was no foreseeing the giant impact 24 men would have on the world.
"I compared Mr. Staley to a Johnny Appleseed and he planted the seeds and he went and he got my uncle and George Halas, he had George Halas I think because he played baseball for him.

He had the foresight," said Joyce Howe, niece and daughter of former players Dutch and Joe Sternaman.
Mr. Staley fielded a team of factory workers.

Ed "Dutch" Sternaman, Howe's uncle, was one of them.
"He said, 'I don't know if I want to be on this team,' Howe described of her uncle to Mr. Staley.

'My father said get a real job and I'd like to just get a real job.

And Mr. Staley said, 'See you can work in my plant, see that boiler plant, and develop your skills.'"
By day he was processing corn, by night picking passes.

Howe's uncle coached and played for the Decatur Staleys.

He eventually co-owned the team with George Halas.
"George Halas worked in the glucose department," Howe said with a laugh.

"I thought you'd like that."
From the factory to the field, players would work at the Staley plant and then two hours a day it's believed they would train and play games near E. Eldorado Street and N. 22nd Street where Staley Field stood. Thousands would come to watch at a ticket price of just $1.

But there's no marking, no plaque, nothing to recognize this area or the team.

That you'll find in just one part of Decatur as you drive by at 45 miles per hour.
"I do think that the town is missing the boat, somebody's missing the boat here, not to have a recognition because I don't think many people know this story," Howe said.

"They say Chicago bears but it's quite an interesting story."
And one that will finally be told in a brand new Staley Museum at the Staley Mansion set to open next year.
"Had it been for sale and not been renovated, I don't know that it would have happened," Julie explained.
The historic site will celebrate the legacy of A.E. Staley, including a history of the team.
"Anecdote has it that the room behind me here is the library and was the place where A.E. Staley and George Halas met on those first meetings to decide how they were going to create this football team who they were going to go out and look for and how they were going to then create the league, find these other teams to play against that then later would develop into the NFL," said Laura Jahr, Director of the Staley Museum.
As this contract shows, the team moved to Chicago one year after it started in 1921, when Staley sold the team to Halas.

It would be called the Chicago Staleys for that season and then be named the Chicago Bears.

Howe's father Joe Sternaman was the first quarterback of the 1922 Chicago Bears, but it was her uncle who was a meticulous record keeper.
"My uncle's collection is five truckloads," Howe said.

"It's huge... There was no place to send it.

It had been in storage for over 80 years... It takes up a great deal of space and it's not on display it's just being kept at the Hall of Fame," in Canton, Ohio but that Decatur connection won't be forgotten.
"It's a Decatur story that needs to be told and needs to be a part of our cultural heritage here in Decatur," Jahr said.
A town that will always be known as the original home of the Chicago Bears.
To this day the Bears mascot is Staley Da Bear.

The Staley Museum is being funded through private donations.
If you have any artifacts for the museum, you can visit their website or we've posted a link at WANDTV.com under Site Watch.
As for Howe, she hopes that with the team's centennial approaching more can be done to recognize them.
Current Events

More>>

Wednesday, March 7 2018 12:29 PM EST

2018-03-07 17:29:46 GMT

INSIDE: Find the officials rules for WAND-T VShedRain Umbrellas sweepstakes.

More \232a

INSIDE: Find the officials rules for WAND-T VShedRain Umbrellas sweepstakes.

More \232a