Renters Nightmare: Eric Steltzer Investigates
Posted: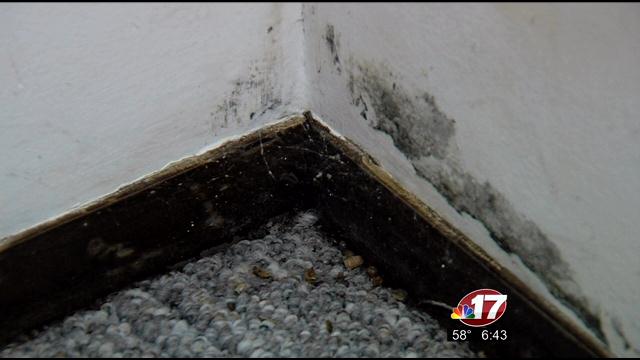 Feeling forced to move out. One woman in Decatur is fed up with how she lives, and says not enough was done to fix the problem. Now she is worried about who moves in next.
Mold, leaking water, and a spore growing out of the floor. The apartment is full of so many problems in need of fixing.
"This is the main problem here; the water down here, if you step on it, you can squish water up around your toes" says Terri Brenner.
80-year old CJ Cearlock lives here, and says when she first moved in, it was the ideal location, price and size of apartment, but never accounted for the headaches.
"I am tired of apologizing to my friends because my apartment stinks!" says Cearlock.
Besides the initial aroma, that she says has been there for two years, the paint is peeling, there is water damage seen through tough-ups around the apartment, and even rain seen in recorded cell phone video leaking into the apartment.
Terri says she's tried almost everything to help out her mother.
"You have a whole list of people here?"
"City of Decatur Departments of Division Information. Environmental Complaints. We have been to the Decatur Housing Authority. In the meantime, I was here Monday with my daughter and it was raining into the bedroom. The water is horrible. It's a hell-hole here" says Brenner.
Deckard Management oversees this apartment, but says it is the building owner's job to put up the money to fix it.
In text messages, the 80-year olds family received from Deckard, they say it is not their problem.
"Deckard basically sent a letter to my daughter saying they have known about the problem for some time now and there's nothing they can do about it because they do not have the money and the owner has not provided it for repairs" says Brenner.
So we went straight to their Decatur office for answers.
The owner was not there, however we heard from her the next day after leaving a voice-mail.
The released this statement saying "It had come to our intention that the roof and windows of the building were deteriorating and in need of replacement…"
And "Windows were caulked repeatedly to try to stop leaking until they were replaced still with no work from the owner on financing."
Also that, "For two-months, the owner of the building has been working with a local realtor and has requested his help on several items to which I do not have the details."
It also says that CJ had the option of moving to a different apartment, but would have to walk up the stairs, and was offered a rent break.
CJ says she wishes more will be done in the place she wanted to call a home, before feeling like she was out of options.
Now she is picking up her bags, and moving out.
"I can't stand it. I am not a messy person; it is driving me crazy. I started three weeks ago packing because I would be out the door on the 15th."
CJ tells us she's a geologist and is looking forward to the day, she no longer has to worry about her work being destroyed by problems out of her control.
The Decatur City manager started looking into this case after WAND brought it to his attention. He says if you are in a similar situation, to file a complaint with City Neighborhood Standards and they will look into it.
Here is copy of Deckard's entire statement – that was too long to fit in our graphics.
Business Summary:
Deckard Property Management LLC is a privately owned property management company specializing in residential management and leasing. The business & individuals working for the business do not own any investment properties. Per our management contract with each individual owner there are limits to the repairs we can do without the permission of an owner and/or the funds to fulfill the job. Our goal as a company is to create a gratifying business experience with optimal return for our owners and a pleasant rental experience for our tenants.
329 Christine:
We have managed this property for over 8yrs. It is a smaller building housing 6/2 bdr units with a laundry facility, storage rooms and assigned parking.
Carolyn Cearlock has been a long term tenant of ours residing in the building for 7yrs. We have always had a good relationship with Ms Cearlock and hold her in high regard. It had come to our attention that the roof & windows of the building were deteriorating and in need of replacement. After contacting the owner we were in agreement to begin getting estimates for these repairs while the owner worked at financing for the work. The owner was provided with the information we collected. In the meantime we continued to do everything in our power to alleviate any problems caused by the roof and windows. At one point I had 3 maintenance men at the property on the roof with shop vacs removing the water that was standing on the roof after a heavy rain to try and avoid more leaking. Windows were caulked repeatedly to try to stop leaking until they were replaced still with no word from the owner on financing. Two apartments have suffered the brunt of these problems one of which is Ms Cearlocks unit and another unit that has remained vacant due to the problems. Ms Cearlocks unit has been professionally shampooed on 2 separate occasions to extract water from the carpet and clean it. Our own maintenance men have been there to extract water from the carpet and help Carolyn with her personal items. Her windows have been caulked and walls have been wiped down. Ms Cearlock has actually only called our office approx 3 times with complaints of the leaking. Any other times our maintenance found while in the building on other work. Within the past 4 wks Ms Cearlock came to our office to express she was going to have to move from the building due to the leaking. I spoke with her personally and made it clear that I definitely encouraged the move since I did not know when the owner would provide funds to do any of the repair work that was needed. I did offer to move her to another apartment that had not suffered from the leaking and she declined due to the fact that the available unit was located on a middle floor that had a few more stairs that her semi below ground unit did. I also offered her a rent break to help her move since I knew she was on a fixed income and moving can be costly. Ms Cearlock was distraught and stated she did not want to move she loved her apartment, the location and her relationship with us. I agreed and hated to see her go. Approximately 2 wks ago I received a call from Carolyn stating she would not be able to move as quickly as she had hoped but still would be moving soon. I asked her to keep me informed and to let me know if there was anything we could do to help.
For approximately 2 months the owner of the building has been working with a local realtor and has requested his help on several items to which I do not have details.
In closing I would like to state we have always taken pride in the relationship we have with our tenants. We do care about them and treat every situation as if it was our own and work to resolve it in the same regard. I cannot predict the outcome of the building repairs nor the longevity of our relationship with the building owner. We do hope the best for Ms Cearlock and would still extend the offer of helping in any way we can and sincerely apologize that we were not able to do more for the situation that surrounds her.
Sincerely
Melissa Deckard