Back-to-Back: Illinois and Nebraska See RBs as Game-Changers in Prime Time Matchup
Posted: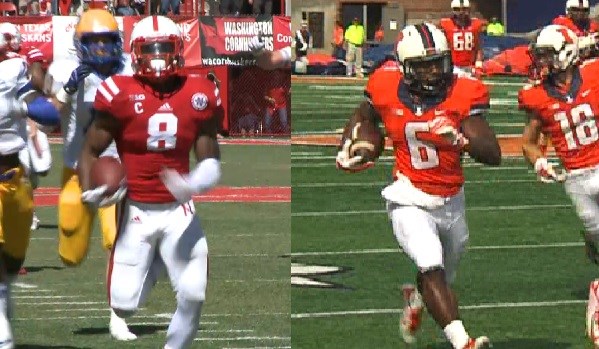 LINCOLN, NE -- Nebraska's runningback is already a well-known entity. As Ameer Abdullah goes, the Huskers (4-0) will go this season

Abdullah is 2nd in the nation in total rushing yards this year, despite a 54-yard performance against McNeese State in week two. He's amassed 625 yards in four games, including five rushing touchdowns, along with two receiving scores.

"I think his stats speak for themselves," said Illinois defensive coordinator Tim Banks. "We knew last year when we played him, we thought he had a chance to be really good. He lived up to the hype, and he's definitely picked up where he left off."

Abdullah ran for a then-career high 225 yards when the two teams met in Lincoln last season. Since, he's topped that mark twice, and is averaging 142 yards per game.

"Just a tremendous back. Great vision. He plays bigger than his stature," said Banks.

While the focus on Saturday night's game will rightfully be on the battle of the Nebraska run game versus the Illinois passing attack, the re-emergence of Illinois' top runningback has Nebraska coach Bo Pelini heaping similar praise on junior Josh Ferguson.

"To me, he's one of the better backs in the conference," said Pelini.

Following a slow start to the season, Ferguson returned to form Saturday against Texas State. He set new career highs in rushing yards (190) and all-purpose yards (233), and remains one the the country's most versatile backs, with 12 receptions for 125 yards and two receiving touchdowns.

"He's elusive," said Pelini. "He's quick to bounce the football and to me, I think he runs with really good vision. He's a good all-around player, and I think their staff knows it."

The Illinois-Nebraska game is set to kick off at 8pm CT, and will air on the Big Ten Network.