EIU Trying to Get Healthy, and Get Right, During Bye Week
Posted: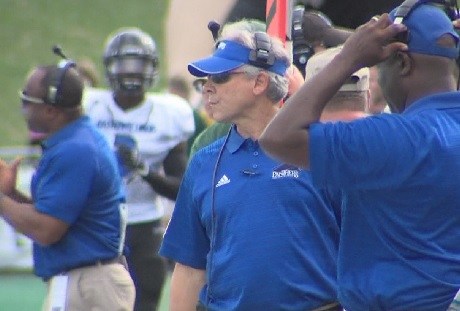 CHARLESTON -- They'll relish the rest in Charleston this week.

The Eastern Illinois Panthers are 1-4 in the first year of Kim Dameron's tenure in Charleston, coming off a 35-19 loss at Ohio University on Saturday.

To their credit, Eastern Illinois has played a difficult schedule thus far, falling to FBS schools Ohio and Minnesota, as well as two ranked FCS teams -- #16 Southern Illinois and #22 Illinois State.

Dameron suggests that the bye week will not only be good for their psyche, but for their bodies as well.

The fact that we are little banged up after a physical football game at Ohio, and the fact that it gives us two weeks to get ready for a conference opponent, in Eastern Kentucky. I think it couldn't have come at a better time," said Dameron.

"We're excited for the opportunity," said junior safety Jourdan Wickliffe. "We're not backing down from anybody. Everybody wants to come and take what we have."

What they have is the title of reigning OVC champions, and the one positive to draw from the poor start: The Panthers are 1-0 in Ohio Valley Conference play.

The road doesn't get easier, however. The OVC has three teams currently ranked in the FCS top-25 - Jacksonville State (8), Eastern Kentucky (18) and Tennessee State (20)

After the bye week, the Panthers will get set to play the 18th-ranked Colonels, in their 2nd of three consecutive road games.