"Who cares?": Beckman brushing off calls for his job at Illinois
Posted: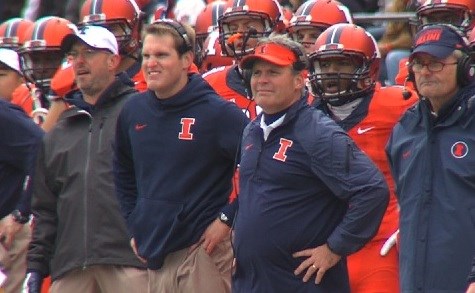 CHAMPAIGN -- Tim Beckman's weekly press conference -- at times -- felt like a retrospective look on his time at Illinois.
That might seem odd, considering there are still six games left for the 3-3 Illini this season.
Following a devastating 38-27 loss to Purdue on Saturday, the Illini still do have time to right the ship, but the calls for Beckman's job are ringing louder than ever. It's clear in the headlines.
ESPN:
"End appears near for Tim Beckman at Illinois"
The Daily Illini:
"Beckman's exit is in the best interest of Illinois Football"
The Chicago Sun-Times:
"Illini AD should be thinking about life after Tim Beckman"
"We can't control what somebody tweets, or writes in an article," said Beckman. "Who cares?"
"You guys are just trying to sell papers. I understand that."
Beckman, like all coaches, is defiant when asked about his program's perception or his job security. After all, he's been a coach with relatively little controversy at Illinois.
His only public misstep was
choosing to chew tobacco on the sideline
during a game in 2012. That's a minor screw-up compared to some of his peers.
However, coaching is a results-oriented business. The results haven't been there.
At 1-17, the Illini have the 2nd-worst conference record among FBS teams since 2012 -- only Kansas (1-19 in the Big 12) has done worse.
"I understand the importance of winning," said Beckman.
Beckman hasn't found a good answer -- or at least hasn't given it -- to questions about his team, his defense, and his future. He often responds, as he did Monday, with: "The only thing we can control is what we do."
That might not satisfy the guy ultimately in control of his job at Illinois: athletic director Mike Thomas.
When Thomas arrived, he dismissed former coach Ron Zook, citing his lack of success in the Big Ten. Zook won 32% of conference games as head coach of the Illini.
As of the loss to Purdue, Beckman has won just less than 6% of conference games.
Beckman will more than likely get to ride out 2014, and he can still save his job -- games against inconsistent teams like Iowa, Minnesota, Penn State, and Northwestern certainly leave an opportunity for three wins, and bowl eligibility. In order to get there, however, they can't play they way that's defined Illinois under the first 30 games of Beckman's tenure.
If that doesn't happen, all those writers and tweeters may be right.
Either that, or Thomas' standards for football success have changed for the worse since 2011.