No Orange & Blue Game? Illinois Offering Limited Space For Pre-Season Scrimmage
Posted: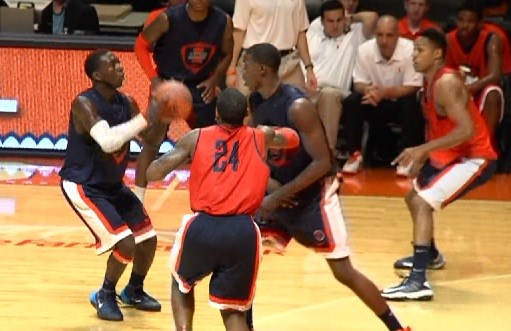 CHAMPAIGN (
fightinglIlini.com
) -- The University of Illinois men's basketball program will host the first-ever
#ILLINIALLIN
event on Sunday, Oct. 26, from 1-3:30 p.m. at the Ubben Basketball Practice Facility. This showcase will allow a limited number of UI students and fans an exclusive look at the team as it prepares for the upcoming 2014-15 season.
In previous years the Illini held an Orange and Blue intrasquad scrimmage at State Farm Center. With the building unavailable this season due to renovation, head coach
John Groce
is opening the doors to allow a select group of faithful Illini unprecedented behind-the-scenes access to the program.
#ILLINIALLIN
will feature complimentary food and drinks, courtside or balcony viewing for the team scrimmage, interaction with players and coaches including an autograph session, plus an Illini-themed gift. Since demand will be high, Illinois Athletics is asking students and fans to share why they should be selected to be a part of this VIP experience.
There are two ways for fans to communicate their interest:
1. By completing a self-nomination ballot online at
FightingIllini.com
2. By tweeting to
@IlliniHoops
using the hashtag
#ILLINIALLIN
Fans are encouraged to be creative with their message, including the uploading of photos and videos showing why they are among the most passionate Illini fans around. UI student and general public season ticket holders will be given priority in the selection process. Participants who are selected to attend
#ILLINIALLIN
will be notified by email and given further instructions regarding the event.
"We are excited to offer the 'Illini All In' event to our fans as the state-of-the-art renovations to State Farm Center continue," Groce said. "We will be delivering one of the best basketball arenas in the country to our fans when the project is complete, and until then we are being creative in showcasing our program. We're excited to open up our daily home to a full house of Illini fans, and especially our students. We value our students and the incredible home court advantage that they bring as we count on their support and frenetic energy throughout the season."
The team scrimmage during
#ILLINIALLIN
also will be streamed live via
FightingIllini.com
along with post event videos, photos and interviews with coaches, student-athletes and fans.
The first exhibition action of the campaign will be on Nov. 7 as the Illini host Quincy (7 p.m.). Illinois basketball tickets can be purchased online at
FightingIllini.com
or by calling 1-866-ILLINI-1.