Buckeyes Hand Illinois Most Lopsided Loss Since 2012
Posted: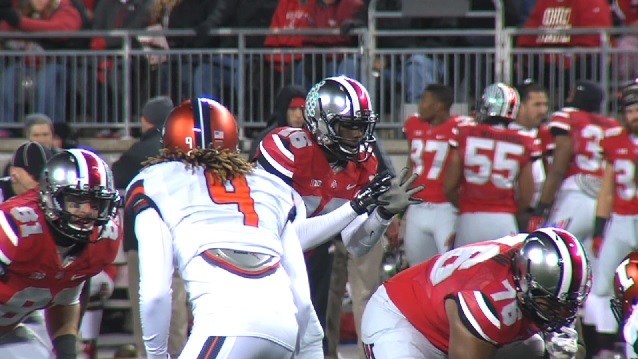 COLUMBUS, Ohio (AP) - Illinois coach Tim Beckman was encouraged by something he noticed about his team during a 55-14 loss to No. 13 Ohio State on Saturday night.
"I really do think this football team continued to fight," he said. "It was out of hand, score-wise. We have fighters here and our players understand it isn't about them, it's this team and trying to move forward."

The Illini (4-5, 1-4 Big Ten) fell behind 17-0 after a quarter, 31-0 at the half and 48-0 before finally finding the end zone. The stats were as lopsided as the final score.

The Buckeyes (7-1, 4-0), winners of six in a row, now head into a huge showdown next week at defending Big Ten champion Michigan State.

"They made good plays," said receiver Mike Dudek, who had three catches for 68 yards to set a school record for yards receiving by freshman with 707. "We had a lot of turnovers at the beginning of the game. That's on us."

Illinois threw two interceptions — both of which were off receivers' hands — and also lost a fumble early on.

Reilly O'Toole was intercepted by Darron Lee nine plays after the opening kickoff, with the Buckeyes taking just three plays to cover 38 yards. Curtis Samuel — who got the start in place of leading rusher Ezekiel Elliott — covered the final 23 yards untouched for the first of his two touchdown runs.

J.T. Barrett hit Devin Smith touchdown throws of 32 and 8 yards, and Samuel's second TD made it 31-0 at the half.

The Illini were hurt by penalties. Twice they were called for chop blocks to stifle drives and Beckman, already on the hot seat after going just 10-23 in three seasons, was flagged for an unsportsmanlike conduct call for berating the officials.

"We're still in contention for a bowl game," O'Toole said. "But these losses are disappointing, especially like this. It's tough to recover from those types of mistakes.

Donovonn Young's 5-yard run late in the third quarter broke up the shutout for the Illini, who have dropped four of five.

After the first possession of the second half, Illinois quarterbacks O'Toole and Aaron Bailey had combined for 58 yards passing — and 56 of them came on an O'Toole completion to Dudek.

Bailey, 9 of 16 for 79 yards without an interception, completed a 7-yard TD pass to tight end Matt LaCosse to close the scoring. O'Toole was 4 of 11 for 58 yards with two interceptions.

Beckman, a former Ohio State assistant who also worked under current Buckeyes coach Urban Meyer at Bowling Green, was asked when the game got away from his team.

"Pretty early," he said. "We turned the ball over and got behind. You can't turn the ball over like we did."

Ohio State extended its Big Ten win streak to a record-tying 20.

Barrett, nursing a sprained medial collateral ligament in his left knee and wearing a brace, left at halftime. He completed 15 of 24 passes for 167 yards and two scores.

He gave way to Cardale Jones, who lofted a picture-perfect 27-yard TD pass to Dontre Wilson and also hit Michael Thomas on a 19-yard scoring pass. Jones was 5 of 9 for 82 yards.

The Buckeyes substituted heavily in the second half while a crowd of 106,961 left early as the score mounted. The game was played in windy conditions with temperatures in the mid-30s.

The Illini have a bye week before hosting Iowa and Penn State and then closing out the regular season at Northwestern.

"We've got three football games remaining," Beckman said. "All our goals are still there to be achieved."