Early Voters Come Out Strong in Champaign County
Posted: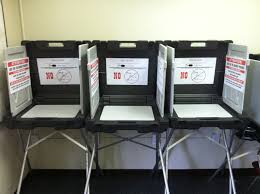 URBANA--Early voting ended Sunday across the state, and election officials say there was a strong turnout across Champaign County.

Some voters use it to escape the chaos that comes on Election Day.

"It's a lot calmer, the rush isn't there, the crowd isn't there," said Kiyonda Burgess, who voted early for the first time Sunday.

Others do it to avoid waiting around.

"I have a hard time standing in long lines," said Shirley Schaefer, who also cast her ballot early for the first time this election season.

Regardless of the reason, between 5000 and 6000 people in Champaign County voted early this election season.

"We're going to be well over 11,000 to 12,000 ballots cast of all types prior to Election Day," said Champaign County Clerk, Gordy Hulten. "And that's by mail, early voters, nursing home voters. So really good, heavy turn out prior to Election Day."

In the past, ballots with races similar to the ones being decided this year have brought around 55,000 voters to the Champaign County polls. But Hulten wonders whether all the campaigning we've seen this season will cause that number to grow.

"The biggest factor in turnout every year is whether you have organized motivated candidates and volunteers involved in local races," said Hulten. "And in Champaign County, we have a very hotly contested congressional race, we have a hotly contested state house race. Both of the candidates for governor have been very enthusiastic about getting their supporters to the polls."

But not all those efforts are motivating supporters.

"All the commercials really don't sway me either way," said BUrgess.

"I figure they're not telling you everything," said Schaefer. "If they want to make someone look dirty, then they aren't going to tell the whole entire truth."

Ultimately, they show up to have their voices heard.

"The only way to change our government is if people get out and vote," said Schaefer.

And for those who didn't vote early, polls will be open from 6 AM to 7 PM on Election Day.