Then and Now: Maroa-Forsyth, Sangamon Valley Meet For First Time Since 2007
Posted: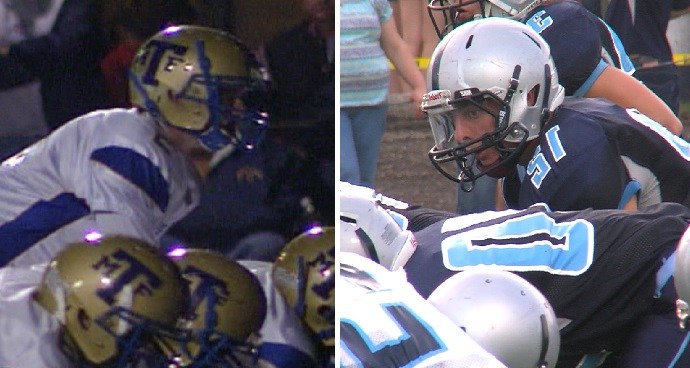 MAROA -- It's rematch seven years in the making.
Despite being less than 25 miles apart, Maroa-Forsyth and Sangamon Valley haven't met on the football field since a 2007 playoff matchup.
The Trojans won 48-24, a game that would set the teams on different trajectories over the next six years.
"Michael Lee, their coach, was there the last time. He was obviously a lot younger. I was a lot younger then also," said Maroa-Forsyth head coach Josh Jostes.
"I wouldn't say I feel a lot older, but I've added a few gray hairs if I let them grow out," said Lee.
The coaches have certainly faced different roads since they were among the final 16 in 2007.
From 2008 to 2013, the Trojans won twice as many playoff games as the Storm won overall, and that doesn't include the 2A State Title the Trojans won in 2006, or the 11-1 season they put up in 2007.
Here's a look at how they've compared in the six years between meetings:
| | | | |
| --- | --- | --- | --- |
| 2008-2013 (6 seasons) | Overall record | Playoff appearances | Playoff record |
| Maroa-Forsyth | 69-11 | 6 | 21-5 |
| Sangamon Valley | 10-44 | 0 | 0-0 |
The last two years (2012 & 2013), the gap had grown even greater. The Trojans were 25-2 with a 1A state title to their name. The Storm were 1-17.
It makes the fact that this is a matchup of two 7-3 teams all the more remarkable.
"The biggest improvement for us was just getting a year older," said Lee, whose Storm have matched a program-best with 7 wins. "I think we match up okay. Certainly they have better athletes than we do, or at least more go-to guys."
Another explanation for Sangamon Valley's turnaround is their return to the LOVC. The Storm left the Sangamo Conference (which consists mostly of 3A schools) for the Little Okaw. A 6-3 regular season record was followed by a 13-6 win over 2-seed Villa Grove-Heritage.
The Trojans, meanwhile, went 6-3 -- their worst regular-season record since 2004, albeit against one of the state's strongest leagues (there are four Okaw Valley Conference teams remaining in the second round of the IHSA playoffs, a cool 67% of the league).
That hasn't changed the goal for a Trojan team that's become accustomed to playoff success.
"We continue to climb that ladder and get better every week, and because of that, we're playing our best football right now," said Jostes. "The big thing is, I'm sure they're happy to be playing in a round two game, as are we."
The Trojans and Storm kick off in Maroa on Saturday at 1pm.