Big Blue Battle-Tested Heading into NCAA Volleyball Tournament
Posted: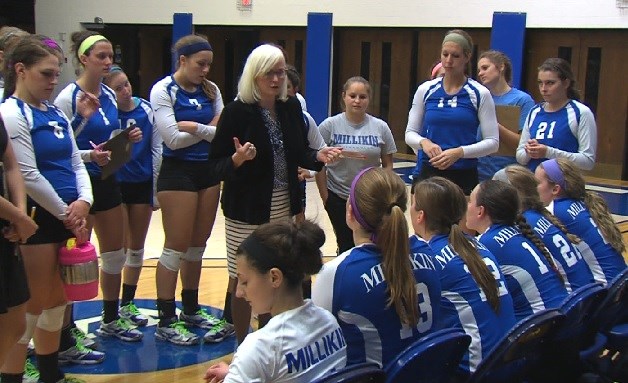 DECATUR -- A nine-year NCAA tournament drought will end for the Millikin volleyball program Friday.

The Big Blue are back in the postseason, starting with the St. Louis regional of the Division III postseason tournament.

No. 23 Millikin (30-9) will join an eight-team region that also includes No. 5 Emory (34-3) and the host, No. 7 Washington University-St. Louis (33-5) -- making it easily the toughest region to get through.

Head coach Debbie Kiick said her team isn't intimidated.

"It's been a very competitive season to prepare us for the postseason," said Kiick, who's in her 14th year at Millikin.

Indeed, the Big Blue loaded up the regular season schedule. Of their 39 games, nine were against teams currently in the AVCA Top 25, and a pair of others against teams just outside of the rankings. That doesn't include a handful that have shown up in the polls at various times throughout the year.

"Not a lot of people can say they've played those types of matches," said senior Jade Becker, a CCIW All-First Team selection. "It was really fun to play all those great matches, and it was just great to be able to compete at that sort of level."

Millikin will open the tournament against Thomas More College (29-4), which won its conference title for the third straight year. If they win, they'll play the winner of a match between Emory and Webster.

"We feel we've prepared for it, so we're not going to take anything for granted, and we're not going to overwhelmed by anything," said Kiick. "We're going to step up, play it one point at a time, and give it our best shot."

The Big Blue begin tournament play at 12:30 CT on the Washington University-St. Louis campus.