Groce Discusses 2015 Recruiting Class
Posted: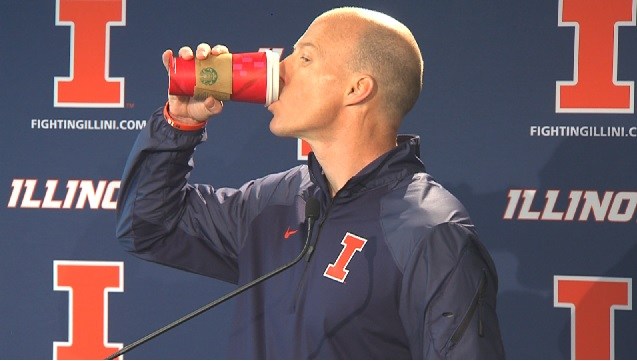 CHAMPAIGN-- With coffee in hand, Illinois Mens Basketball Head Coach John Groce stepped to the podium Thursday at Memorial Stadium to discuss his 2015 recruiting class. The class includes Guards Jalen Coleman-Lands (La Porte, IN) and Aaron Jordan (Plainfield, IL), and Forwards D.J. Williams (Chicago, IL) and Darius Paul (Gurnee, IL). The class is ranked 11th in the country by Scout, and is Groce's second top-25 class in his three seasons at Illinois.

"We're excited about the class," Groce said. "I'd put it against about any class in the country...All four guys...We're excited about them and how they fit into our plans moving forward."

Coleman-Lands is the most highly touted of the group. The consensus national top-40 recruit is the first Indiana-native to sign with the Fighting Illini in 30 years. His natural position appears to be shooting guard, but Groce hinted that he could eventually grow into the point guard role.

"He's multi-positional. The one thing that stood out to me over the summer was how much his ball handling improved," Groce said. "He's a hard worker, I see nothing but upside for him."

Darius Paul will re-join the Illini in 2015, after completing his one year suspension from the program. Paul is currently playing at Lamar State, where he's averaging 17.5 points per game. Groce reiterated that he had zero doubts about giving Paul another chance.

"I love the progress he's made," Groce said. "He has really done a great job there. I've been down to see him, as have our staff. He and I have talked about him having the opportunity to become maybe one of the greatest success stories of my career as a coach. Sometimes you got to try to make lemonade out of lemons. At this juncture, he's certainly done that."