McHood Sends NLI to Kentucky, Says Leg is Healed
Posted: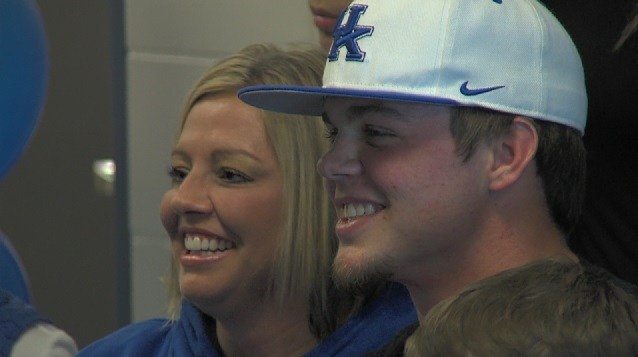 ARGENTA -- A three-sport athlete from Argenta-Oreana High School is going to take his athletic future to the SEC.

It wasn't suspenseful. In fact, most parties have know for more than a year -- Keegan McHood will join the Kentucky Wildcats baseball team.

"It's been a long time coming I guess," laughed McHood, who verbally committed in 2013. "Obviously it's exciting still. Its kind of re-energizes the whole situation."

McHood signed his national letter of intent in front of friends, family, teammates, and coaches Friday.

He recently helped lead the Bombers to a school-best 3rd place finish at the state tournament. He threw a six-inning, one-hitter -- with 11 strikeouts -- in the consolation game.

McHood has spent much of the last two seasons putting up outings that have, no doubt, impressed Kentucky.

"They said I'd get a chance to pitch," he said, "and that obviously just depends on how I pitch."

Kentucky couldn't have been thrilled in September, upon hearing that McHood was injured in a week two football game for Argenta-Oreana. McHood, also the starting quarterback, fractured his fibula, and sat the remainder of the season.

"I'm fully released now," McHood said, meaning he's allowed to fully participate in workouts. In fact, he began practicing with the basketball team on Monday.

"I'm still a work in progress. It's not going to be anything that affects me long-term. It'll be 100% before I know it."