Illinois Women Hold Off IPFW for Win in Season Opener
Posted: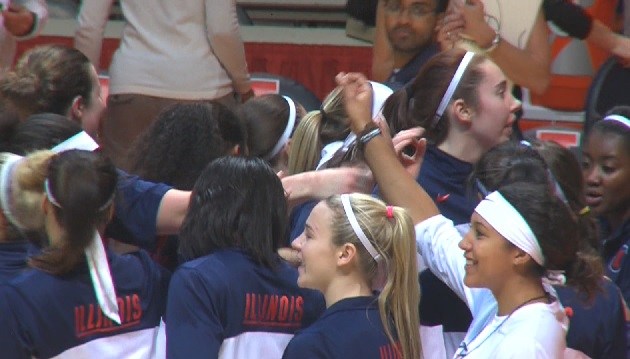 CHAMPAIGN, Ill. (fightingillini.com)
- Illinois used suffocating second-half defense to overcome a cold shooting night from distance and a first-half deficit, getting past IPFW 70-63 in both teams' 2014-15 season-opener at State Farm Center on Friday. Senior
Ivory Crawford
scored 18 points - including 16 in the second half - and freshman
Amarah Coleman
scored 18 on 7-of-11 shooting in 24 minutes off the bench in her Illini debut to lift the Illini to victory.
Freshman
Chatrice White
also posted her first career double-double in her debut, notching 15 points and grabbing 10 rebounds. The win gave Illinois just its second victory in its last six season-openers but improves the Fighting Illini to 16-4 all-time when opening the season at home.
"I'm happy for our team," Illini head coach
Matt Bollant
said. "To have a game and go 0-for-21 from the three-point line, when I think we're a pretty good shooting team, you just have to find a way and we did that in the second half.
"I thought we were the most aggressive team in the second half and Ivory was a big part of that, getting us going offensively and making some plays. And Amarah played really well for her first game. She did a great job of getting to the hoop and making plays. We need to celebrate the little victories and we had a little victory of being the most aggressive team in the second half and of finding a way when our shooting wasn't at its best."
Illinois forced 35 Mastodon turnovers, the second-most by an opponent under Bollant, and out-scored IPFW 31-7 off miscues. The Illini record 21 steals, as Crawford led the way with five and seven players had at least two. And Illinois asserted itself down low, posting a 44-12 advantage in the paint.
All those served to cover up a surprisingly chilly night from distance, as the Illini went 0-for-21 from beyond the arc on the night, compared to 11-for-30 by IPFW. But Illinois overcame that by forcing 19 second-half turnovers, 13 on steals, and out-rebounding the Mastodons 27-21 - including 17 offensive boards - in the second half.
The Illini struggled from the floor in the first half, trailing 32-26 at half after shooting 9-for-31 and 0-for-12 from behind the arc. But Illinois responded early in the second half, using an 11-3 run to pull ahead 37-35. The Illini defense clamped down during that stretch, forcing three IPFW turnovers and holding the Mastodons to 1-for-6 shooting.
IPFW pulled back ahead 45-41 but Illinois ratcheted up the pressure, forcing four straight turnovers during one stretch and using a 10-0 burst to pull ahead 51-45, with Crawford scoring four during the run and White, Coleman and
Brooke Kissinger
each chipping in two.
Leading by four, Illinois got steals on three straight possessions but managed only two points as IPFW pulled within 56-51 at the under-8 minute timeout. The Mastodons pulled within a bucket when KeShyra McCarver hit a trey at the 6:35 mark but
Jacqui Grant
blocked Mur Hagerman's jumper and Coleman laid it in on the other end, starting a 5-0 spurt that pushed the Illini margin to 61-54.
But Illinois went cold from the free throw line, missing 3-of-4 on the next two trips, and IPFW turned the tables with an 8-2 run of its own to tie the game at 62 with 2:14 left. Out of an Illini timeout,
Kennedy Cattenhead
drained a runner in the lane to put the Orange and Blue back on top, a lead they would never relinquish.
From there, Simmons drained two from the line, Crawford hit two more freebies and Coleman's fast-break layup with five seconds left sealed it, 70-63.
The Illini return to action Tuesday when they host Robert Morris at State Farm Center at 7 p.m. It will be "Two for Tuesday," with all single-game tickets being buy one, get one free.