Freshman Chatrice White Shows Star Power in Win over Robert Morris
Posted: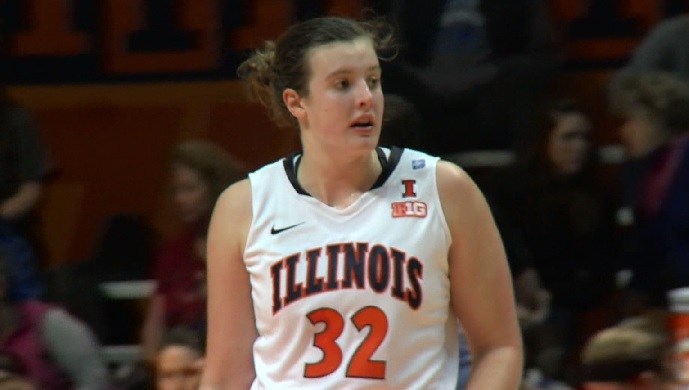 CHAMPAIGN, Ill. (fightingillini.com)-
Illinois freshman
Chatrice White
poured in a game-high 23 points and senior
Brittany Carter
recorded her first career double-double with 11 points and 10 rebounds to lift the Fighting Illini to a 66-48 win over Robert Morris at State Farm Center Tuesday. The Illini forced 27 turnovers by the Colonials and out-scored RMU 36-12 in the paint to improve to 2-0 on the season.
Illinois never trailed and led by as many as 26 with 5:25 left in the game. It marked the fourth time in head coach
Matt Bollant's
two-plus seasons that Illinois has held an opponent under 50 points.
"I just thought our positioning was better defensively," Bollant said. "We did a great job of taking charges and making the ball go where we wanted it to go. And we kept them off the foul line in the first half. We showed a lot of discipline there.
"And in the second half, I thought `Tree' (
Chatrice White
) kind of solidified the game. We were a little bit tight at the start of the second half, not moving quite as well, and we needed somebody to make a couple baskets. And `Tree' did that for us. We did a great job of getting her touches today, which is exciting for our program because good things happen when she gets the ball. We did a good job of finding her and the guards did a good job of seeing the floor."
White scored 23 points in 21 minutes on the night, making 10-of-20 field goals and 3-of-4 from the free-throw line. She hauled in eight rebounds and added one assist and one steal. Fellow freshman
Brooke Kissinger
drained the first two three-pointers of Illinois' season and finished with 10 points on 4-of-6 shooting.
The Illini shot 41.7 percent as a team (25-of-60) but made 14-of-19 (73.7 percent) from the charity stripe, a marked improvement over the first game. All while holding RMU to 33.3 percent shooting from the floor (18-of-54) and only 7-of-22 (31.8 percent) from long range after the Colonials hit 10 three-pointers at Iowa on Sunday. Illinois also out-rebounded RMU 41-33 and out-scored Robert Morris 31-18 off turnovers.
The Orange and Blue held Robert Morris scoreless for the first 6:22 and used a 10-2 run after RMU's first bucket to bolt out to a 17-5 lead. After another bucket by the Colonials, Illinois scored the next 11 points to build a 28-7 margin and never looked back. The Orange and Blue led 32-15 at halftime after holding the Colonials to 23 percent shooting (6-of-26) and forcing 15 turnovers, turning those miscues into 16 points. White had 11 points in the first half on 5-of-8 shooting, while Carter had eight points and five rebounds at the break.
RMU scored the first five points of the second half to pull within 12 but that's when White went to work. She showcased a variety of post moves and even drained a jumper from the elbow, going on a personal 11-5 run to push the margin back to 43-25 with 14:18 left.
Brooke Kissinger
hit a three - her second of the night - and
Kennedy Cattenhead
made a nifty runner in the lane, finishing the run at 15-5 and make the Illini lead 48-25 at the 12-minute mark. The lead ballooned to as many as 26 twice, as late as 5:25 when
Jacqui Grant
made two free throws to make the score 58-32. Bollant substituted freely from there and RMU drained a three at the buzzer for the final margin of 66-48.
The Illini look to keep momentum on Thursday when they host Memphis at 7 p.m.