Illini Riding Scorching Offense into Las Vegas
Posted: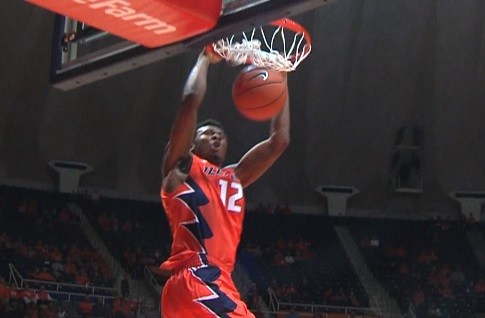 LAS VEGAS, NV -- One of the nation's most high-powered offenses is taking their show to Sin City this week.
The Illinois men's basketball team, as of Tuesday afternoon, ranked number one in the nation in scoring, with 97.5 points per game (UPDATE: Tuesday night, BYU passed Illinois, and is now averaging 99.0 ppg).
It's a far cry from the team that averaged 64.6 per game a year ago, a number that ranked 311th in the country (out of 351).
Head coach John Groce said the team can't let up in their first action away from home -- two games at the Las Vegas Invitational on Thursday and Friday.
"We have a motto of being unconditional," Groce said Tuesday after landing in Las Vegas. "Whether it's away, neutral, what time the game is, who you're playing. I think, obviously, that's helped us, and it's become almost a part of our culture."
Since it's unfair to compare the entire 2013-2014 season to an early season schedule that includes Austin Peay and Coppin State, here's a look at how the number compare to last year's four-game start (vs. Alabama St., Jacksonville St., Valparaiso, and Bradley):
| | | |
| --- | --- | --- |
| Through 4 Games | 2013-2014 | 2014-2015 |
| Pts. per game | 77.8 | 97.5 |
| Field Goal % | 43.7% | 51.7% |
| 3 Point % | 30.6% | 47.3% |
The team is averaging almost 20 points per game more than they were at this point a year ago. The most glaring difference comes in the form of three-point shooting. Rayvonte Rice leads Illinois in accuracy from deep, making 9-of-13 attempts -- good for 69.2%.
Those numbers are bound to drop as the competition stiffens -- the coming weeks include games against #17 Miami, #12 Villanova, along with neutral site contests against Oregon and Missouri -- but Groce and company take the upward trend as an encouraging sign.
Illinois opens Las Vegas Invitational play against Indiana State at 4pm CT on Thursday. They'll play either Baylor or Memphis on Friday.