State Final Preview: Maroa-Forsyth Takes Different Path to Same Game
Posted: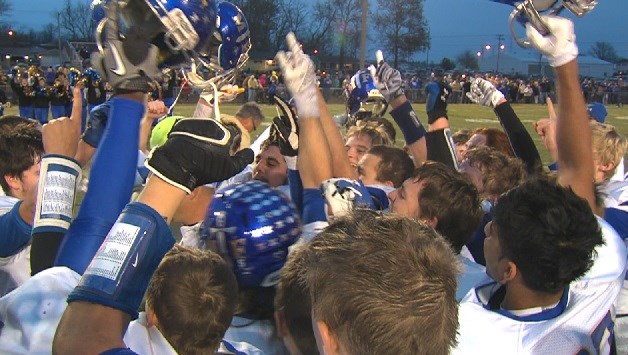 MAROA - No two playoff runs to a state championship game are alike.

In fact, few are as different as the two the Maroa-Forsyth Trojans have put together -- only two years apart.

In 2012, the Trojans dominated their way to a 1A state championship. Their closest game, in terms of scoring margin, was the title matchup with Stockton -- which they won 48-24.

"We knew we'd be in for a war for 48 minutes," said Head coach Josh Jostes at the time. "I couldn't be prouder of our kids."

If that was a 48-minute war, you'd be hard-pressed to find an appropriate word for the Trojans' 2014 season.

Maroa-Forsyth entered the playoffs with a 6-3 record, their worst -- using the term loosely -- in the regular season since they were 6-3 in 2004. This season included losses to St. Teresa, Unity, and St. Joseph-Ogden.

Most recently, the Trojans eked out a 22-20 win over Tuscola, thanks to a late interception by Trey Hise.

The short version: They could never really get comfortable.

"We learned a lot about our weaknesses all throughout the season," said Jostes. "Every time we felt like we fixed something during the year, we'd play St. Joe or Unity and get exposed on something else."

About the only recognizable name from the 2012 championship team is QB Jack Hockaday. Now a senior, the Iowa-bound Hockaday has been their most potent offensive weapon, and their unquestioned leader.

"His leadership skills, and his ability to make plays when everybody is keying on him have been two things that have separated him from the past," said Jostes.

Now, they're facing a team that was as dominant as them two years ago. Eastland-Pearl City rolls into the 2A title game with a 13-0 record. They've defeated five teams that have reached double-digit victories.

The Wildcatz also beat Forreston -- a team playing for the morning's 1A championship -- by 33.

During a freezing cold week of practice, Jostes claims the team is just happy to have the opportunity to keep playing.

However, they're unlikely to consider themselves the underdog.

"This is my senior class' 54th game out of 56 possible games," said Jostes, "so they've been there, done that, and I don't expect that to be an issue at all."

Maroa-Forsyth vs. Eastland-Pearl City kicks off at 1pm CT Friday at Memorial Stadium in Champaign.