Illini Prepare For Bowl Game As Report Claims Big Ten Team Could Be Left Out
Posted: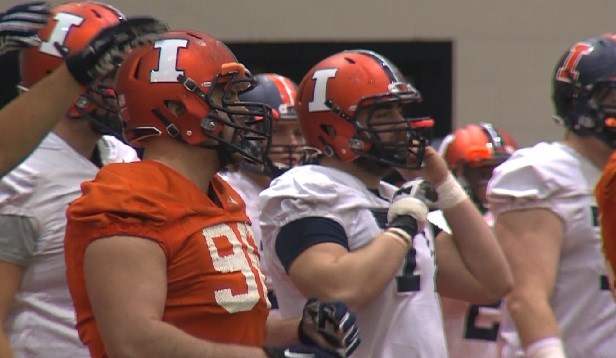 CHAMPAIGN -- The Illinois football team is doing something this week they haven't done since 2011 -- holding official December practices.
The 6-6 Illini are preparing for a bowl, although some news on Thursday put a sliver of doubt into their postseason chances.
According to an ESPN report (
which can be seen here
), the conference sent a memo to Big Ten athletic directors, laying out the possibility of a Big Ten team missing a bowl game.
According to the report, the Orange Bowl will pair an ACC team against the highest-ranked non-champion not in the College Football Playoff from the SEC, Big Ten or Notre Dame.
The scenario: If Alabama wins the SEC title, and Ohio State beats Wisconsin, Michigan State would likely end up in the Orange Bowl. If that's the case, an agreement would leave the Big Ten out of one of its contracted bowl spots - the Citrus Bowl.
In English: That scenario would leave only seven more spots for eight remaining teams.
Rutgers (7-5), Maryland (7-5), Penn State (6-6), and Illinois (6-6) would be the four candidates if there was a team left out, however Illinois officials have said it's not out of the realm of possibility to get an at-large bid into a non-Big Ten Bowl -- and it's worth noting that the Big 12 has eight bowl contracts, and only six bowl eligible teams.
Whatever outcome this weekend, head coach Tim Beckman thinks they have a strong argument for inclusion in the postseason.
"I'm going to go strength of schedule. That proves - with the people that we've played against - it proves that we've played quality opponents. The teams that we've beat have been quality teams, and I think that we've played, in this last quarter and a half (of the season) some really good football."
Right now, there are 80 bowl eligible teams in the country (6 wins, .500 record or better), and just 76 spots for them. Illinois is one of 14 teams with a 6-6 record.
Bowl bids will begin to go out Saturday following conference championship games. Each bowl spot should be filled by Sunday.