Fast Food Workers Protest for $15 Minimum Wage
Posted: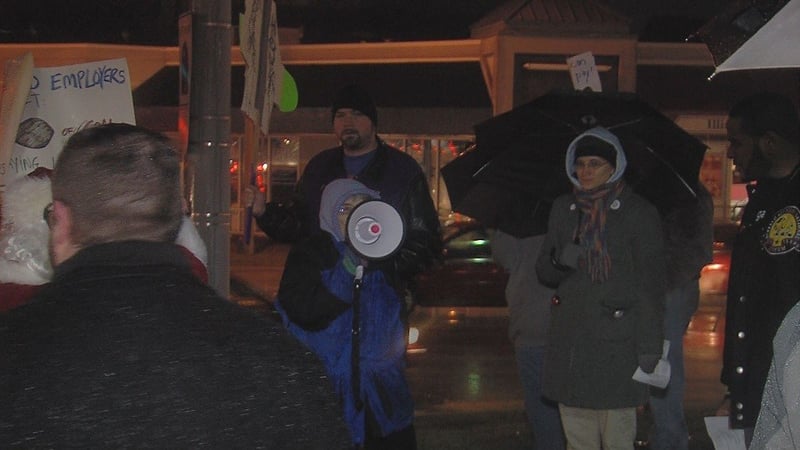 What do they want? A $15 minimum wage. When do they want it? Now. Who are they? Fast food workers and their allies. Over two dozen gathered Friday evening at a McDonald's Restaurant in Champaign.

Protests like this happened in 190 cities across the nation. New York, Pittsburgh, and Kansas City, drawing the most protesters. The Fight for Fifteen started a few years ago and has expanded from fast food to other industries like home health care and the airline industry.

"We're calling on everybody to stand up and say enough is enough," said community organizer, Grant Antoline. "People need to pull themselves out of poverty, and the way to do that is a living wage."

The Illinois Senate has approved legislation that would raise the minimum wage to $11-an-hour by 2019, but the House adjourned without addressing the issue, and won't take it up until after a new General Assembly is sworn in.

"2019 is too far because, buy that point, people are going to lose their homes," said community organizer, Gus Wood. "There are people who are going to drop out of school. There are people who are going to lose their cars."

Fast food workers have been protesting nationwide all week, so McDonald's released this statement:

"McDonald's and our independent franchises support paying our valued employees fair wages aligned with a competitive marketplace. We believe that any minimum wage increase should be implemented over time.."

"The problem is that anytime workers are living in poverty, not time is soon enough," said Antoline. "People are dying. People are suffering. Their are kids going hungry."