15-Year-Old With Terminal Illness Gets Final Wish
Posted: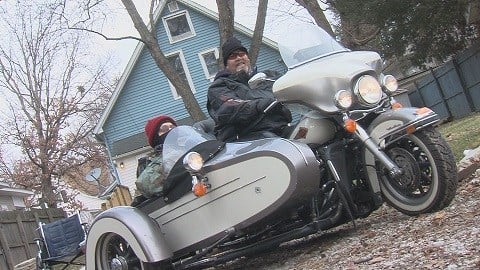 Silas Martin sees every day is a gift.

"I have a God who's bigger than the odds and I embrace every day he gives me," said Martin. "If you've been given today, appreciate it."

It's these words that inspired dozens to take Silas on the ride of his life.

"The whole side car idea came as we drove back and forth to St. Louis Hospital all these years," said Martin's mother, Gloria.

The 15-year old has been battling a brain tumor since he was 5. The fight has taken an bad turn and doctors say he doesn't have much time left.

"They took us aside on, I don't even remember the date, but told us really there was nothing more they could do for Silas and that they were sending him home for hospice," said Gloria.

Sunday morning, Decatur's biking community granted Silas one of his final wishes: to ride on a motorcycle.

"If he wants a motorcycle ride then that's exactly what I'm going to give him today." said Mike Tarczan, the organizer of the ride along. "I know first hand what it's like to lose a son, especially during the holiday time. I lost my son 10 years ago the 19th of this month. So, I kind of heard a little voice in back of me saying jump on it.. And here I am."

The Decatur community has been showing Silas love and support all month long. The only thing on his mind? Figuring out a way to show it back.

"I wish I could give everything back that they've given," he said.

It's the core of the legacy he wants to leave. Live the moment. Seize the day. Love your neighbor while doing it.