Flu Season is Here with a Vengeance
Posted: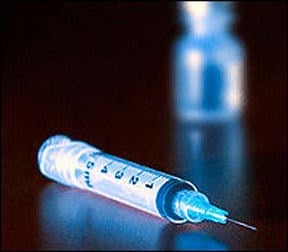 DECATUR – Many schools and work places aren't as vibrant as usual these days. That's because flu season is hitting early and with a vengeance. According to the Illinois Department of Health, there have been more positive lab tests and more people being hospitalized this flu season than at this point last year.

Illinois is one of 14 states where the flu is already widespread. It's also one of six states in which doctors say they seeing flu-like illnesses at much higher than average rates.

Last year, flu deaths were responsible for 100 deaths statewide; this year, no deaths have been reported.

Flu vaccine is still considered the best weapon against the flu. However, this year's vaccine, according to some health experts, isn't considered the best match for the dominant strain of Type A H3N2 that is currently circulating. But doctors still highly recommend getting a flu shot. It can lessen the impact of getting ill. It is also very effective in fighting other strains of the virus.
Healthy habits can also help protect individuals and their families from getting or spreading germs at home, work or school.

Other good habits include eating healthy foods, getting plenty of sleep, drinking plenty of fluids, and washing hands. The following is information about the flu and some actions to help stop the spread of germs and illnesses.

The flu (influenza) is an infection of the nose, throat, and lungs caused by influenza viruses. Symptoms include fever, cough, and sore throat. Headache and / or body aches may also occur. Individuals should follow certain precautions to care for sick persons at home and to prevent the spread of the virus.

The main way that the virus is thought to spread from person to person is in respiratory droplets of coughs and sneezes. Those sick with flu like illness should stay home and keep away from others as much as possible. Those affected should not go to work or school until fever free for 24 hours without the aid of medication.

Sick individuals should get plenty of rest, drink plenty of fluids, and take fever reducing medication as needed.

To reduce transmission to others, always cover coughs and sneezes with a tissue or sleeve, and wash hands often with soap and water, or use an alcohol-based hand sanitizer.

If someone in the home is sick, everyone in the household should clean their hands often using soap and water or an alcohol based hand sanitizer.

A person who believes he/she may have the flu should consult with their personal physician, who may recommend antiviral treatment. If an individual is sick at home, the following warning signs indicate the need to seek emergency medical attention: difficulty breathing, chest pain, purple or blue discoloration of the lips, vomiting and inability to keep liquids down, signs of dehydration such as dizziness, absence of urination, or in infants – a lack of tears when crying.

Anyone experiencing seizures, confusion, or altered level of consciousness should also seek immediate medical attention.

For caregivers at home, these tips can help keep others in the home from being sick. Throw away tissues and other disposable items used by the sick person. Wash hands after touching these items.

Use paper towels for drying hands. Keep surfaces in the home (such as tables, bath surfaces) clean by wiping them with a household disinfectant according to the directions on the product label. Wash linens using household laundry soap and tumble dry on a hot setting.

Eating utensils should be washed in either a dishwasher or by hand with water and soap.

"If you have a fever, cough, sore throat or other flu-like symptoms, we ask that you refrain from visiting the hospital," said Lynn Berner, RN, Infection Preventionist at HSHS St. Mary's Hospital. "The hospital offers medical masks, hand sanitizer, and tissues available for those who are ill and must come to the hospital for testing, treatment or other medical needs."

A hospitalized patient may meet certain criteria and need to be isolated during his/her hospital stay. Isolation means that any visitor or employee must wear a mask, gown and gloves when entering the patient's room. These precautions are to help eliminate the spread of germs to visitors, caregivers, other patients, and hospital staff.



For more information on the existing strains of influenza, treatments, and preventative measures, please click on the following link: http://www.idph.state.il.us/flu/sick.htm