O'Toole Set to Start Bowl Game for Illinois
Posted: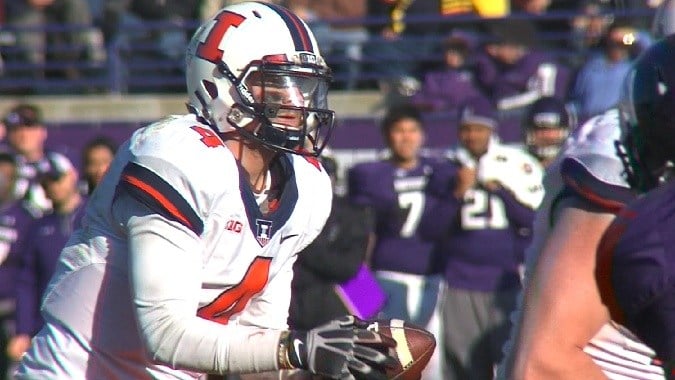 CHAMPAIGN -- The Illinois coaching staff will prepare for Louisiana Tech with their a senior quarterback.

Reilly O'Toole is in line to start for Illinois (6-6) in the Zaxby's Heart of Dallas Bowl on Dec. 26.

"He deserves it," said offensive coordinator Bill Cubit. "But Wes (Lunt) has got to be ready, too."

The announcement doesn't come as much of a surprise, which is a surprise in and of itself.

At the beginning of the year, it was clear that Lunt would be named starter, and he began the year with strong results. Through four games, Lunt was on pace to break a number of Big Ten passing records.

However, following a leg injury, Lunt only played in two of the final six games, completing just 52.3% of his passes for a total of 160 yards, and failed to rediscover his rhythm in the passing game.

O'Toole, once again, was asked to fill a starter's shows. He played in each of Illinois' three Big Ten victories in the second half of the season, and finished the year with career highs in completions (98), attempts (167), yards (1,049), and touchdowns (9).

His numbers were better in his final six games, finishing the second half of the year completing 61.1% of his passing for 621 yards, to go with 8 TDs, 3 INTs, and an above average 127.7 passer rating. It also can't be ignored that O'Toole brought a new dimension to the Illinois offense with his ability to run. He scampered for 147 yards in Illinois' bowl-clinching win over Northwestern, and finished with 418 rushing yards despite limited action this season.

When he was officially announced as starter versus the Wildcats, it was the first time in his career that O'Toole had been given the opportunity based on his own merits, and not because of an injured player ahead of him on the depth chart.

He said the biggest change for him was opportunity to get a rhythm.

"I think just experience, and being in full-game situations," O'Toole said Thursday. "I mean, I hadn't played a full game in a really long time. Just having that experience, I think, just really helps out a lot."

For his career, O'Toole was not just known as a back-up, but a mistake-prone one at that. Prior to his stronger second half this season, he had a career 9-to-13 touchdown-to-interception ratio. Cubit said O'Toole's biggest improvement has come in the form of ball security.

"I mean, you look at Nebraska, " said Cubit, referring to O'Toole's three interception game versus the Huskers in September. "Then all of the sudden, he cut them out. That's a big contributing factor."

"In years past, a lot of times I went in and we were down by a lot, or things weren't going well and I tried to do a little too much," O'Toole said.

Now the quarterback -- who wasn't sure if or when he'd ever get a chance to play -- is a key reason Illinois gets to play a 13th game in 2014.

One more start seems to be an appropriate reward for the senior.

"It'll just be another opportunity to showcase ourselves as a team," said O'Toole. "I'm just glad to have another opportunity to go out there."

Illinois and Louisiana Tech will square off in the Zaxby's Heart of Dallas Bowl at Noon CT on Dec. 26.