Vinnie Barbee is Back in Action
Posted: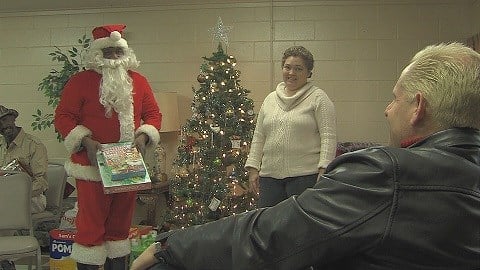 This is what you call a surprise.

"Oh, my God," said Elizabeth Zienkosky fighting back tears as she realizes her kids will get the Christmas she hoped for.

"I'm completely in shock," she said.

This year she wasn't sure she'd have a Christmas at all.

"Two weeks before Christmas," she lamented. "Now you're homeless, again, with four kids going to another homeless shelter. You don't know anybody. You don't know what to expect."

She probably didn't expect a man dressed as Santa to shower her with gifts on Sunday Morning.

"My kids are going to be incredibly happy," she said. "They were under the impression that there wasn't going to be a whole lot this year."

The man in the costume is Vinnie Barbee. The man who once owned a popular restaurant is now on a new mission. He's helping people like Elizabeth during the holidays.

"I call it friends helping friends," said Barbee.

Vinnie now leads a group called Vinnie's Helping Hands. This year, they gave away Christmas presents at Decatur Cares Rescue Mission, a homeless shelter for men and women. Vinnie spent months collecting donations to pay for the gifts.

"We try our best to help a lot of people in the community," he said. "I get chill bumps, I get everything. My heart flutters, but I just like to see their look on their faces seeing that somebody cares."

After the gifts were handed out, the women received free manicures and pedicures. Of course, Vinnie's famous food was served.