Man Shot in Springfield on Christmas Day
Posted: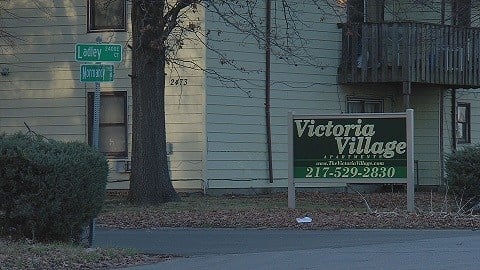 Springfield Police are investigating a Christmas morning shooting that left one man seriously injured. It happened in the Victoria Village Apartment Complex on the 24-hundred block of Ladley Court. It was the morning of Christmas and shots rang out.
"I saw the police out there," said resident, Hattie Lowe.
Police aren't releasing the name of the victim, but we do know he is 28 years old and was taken to Memorial Medical Center. Police say he was shot at about 6:50 A.M.
"I think there should be some type of security guard around here," said Lowe.
Police say two or three men forced their way into an apartment. The victim was in the apartment and attempted to flee but was shot in the lobby of the building. He was left with serious injuries.
"God made us all, and he didn't make us to do that," said Lowe. "To hurt one another."
So far, police have been unable to locate anyone who may be responsible for the crime. This is the second shooting at this complex in 3 months. Lowe says she's sick of feeling unsafe.
"I've been here about 8 months. Two shootings. Just moved to Chicago from gang shootings, and I get here and there's two."
On September 24th, DeAndre Atkinson was shot and killed in Victoria Village. He was 17 years old.
"We have to have, you know more regard for human life," said neighbor, Marquia Green. "People don't have regard for human life."
No one has been arrested for the killing of Atkinsons. And the search continues for the shooters on Christmas Day. Police are not revealing how many times the 28-year-old was struck, and it's unclear whether he lived in the apartment or was simply visiting.