Illini Seek Finishing Touch, Try to Avoid Another January Swoon
Posted: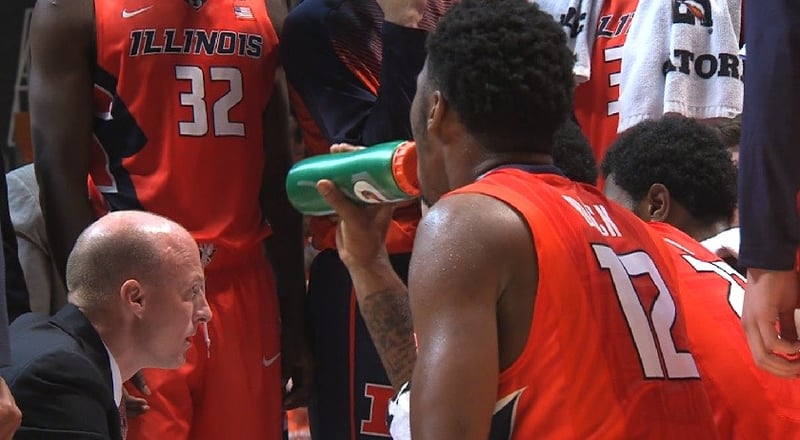 CHAMPAIGN -- It's only one loss. The Fighting Illini are reassuring themselves ahead of a road game against No. 20 Ohio State.

That loss, a 73-65 overtime defeat against Michigan, wouldn't sound so bad if it wasn't for the 13-point, second half lead Illinois gave up.

"It was tough. Coach gave us a chewin'," said Illinois guard Malcolm Hill.

The Illini are 0-1 in Big Ten play, so it's not time to panic just yet, but Tuesday's loss exposed an issue that's been plaguing Illinois much of the season.

In early December at Madison Square Garden, Illinois was within three points of 7th-ranked Villanova with 6:45 to go.

The Wildcats then finished the game on a 15-4 run.

Four days later, in front of a home-like crowd at the United Center, Illinois led Oregon by four late in the game.

The Ducks finished on a 17-6 run.

The latest, in Ann Arbor, was just the most egregious, and it included a 14-6 deficit in the overtime period.

"We can do the right things for the first 30 minutes," said Hill, who's Illinois' 2nd-leading scorer (13.4 ppg). "We watch film of the last ten minutes and it looks like we lose our minds sometimes."

"Defending is the biggest thing," said guard Jaylon Tate. "We can score, we all know that, but defending is going to be one of the biggest things we've got to keep improving on."

Senior guard Ahmad Starks echoed Tate. "We gave up too many buckets in the last 8-12 minutes of that game," he said.

The Illini faced similar issues last January, and it snowballed. They lost late leads against Purdue and Iowa at home, and missed an opportunity with a second half lead against a ranked Buckeye team in Columbus. It amounted to an eight-game losing streak.

Hill and Tate, now sophomores, remember their state of mind during the streak.

"When we were younger, we were still dwelling on mistakes that we made in games that we lost," said Tate.

"We were hanging our heads about a lot of losses going into games," added Hill. "I think that had an effect on us going into games last year."

If the Illini are indeed more well-equipped to handle adversity, then the problem is fixable.

Starks knows the only way to prove it, is to clean up the end-of-game problems.

"It's going to cost us more and more if we don't do something to change it," said Starks. "We can't keep talking about it. We've just got to step up and do it."

Illinois and Ohio State tip off at 2:30pm CT on Saturday.