Bruce Rauner and New Comptroller Stop In Moweaqua
Posted: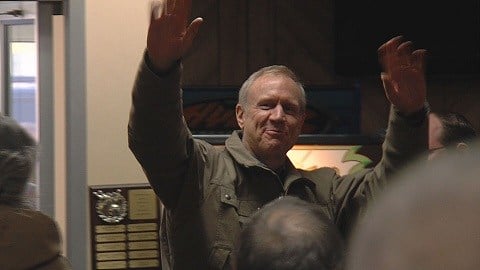 MOWEAQUA - Cheers erupted as Bruce Rauner made his way to the front of Moweaqua Bowl. Rauner has been stopping through towns across the state, getting ready for his big inauguration on Monday.
"We're at the tail end of a couple day swing throughout the state," he said. "We're going to every county, letting the word be known that starting on Monday, we've got big transformation. We're going to turn our state around, get a booming economy in every community and invest in our schools."
He wants all small towns and small businesses to have a chance at success.
"Small towns have been pretty much ignored in these prior administrations these past 12 years, and Evelyn and I and Leslie want to work for every family in every community and we especially want to create an environment where are small businesses and grow and thrive."
Alongside the Governor Elect was Leslie Munger, who he plans to appoint as the new comptroller.
"She knows business," said Rauner. "She knows economic job growth and creation and she's very disciplined and fiscally very thoughtful and conservative."
Judy Baar Topinka was re-elected as Illinois comptroller for a second term, but then died suddenly in December.
"I'm really excited to get to work for the people of Illinois," said said Munger. "It's an unbelievable opportunity to make a difference in our state and really lead on fiscal and spending reform in our state."
Munger will hold the office until 2016, when she will have to compete for the spot in an actual election. The winner will be comptroller for the remainder of the 4 year term.