State Treasurer-Elect Spends Inauguration Weekend Giving Back
Posted: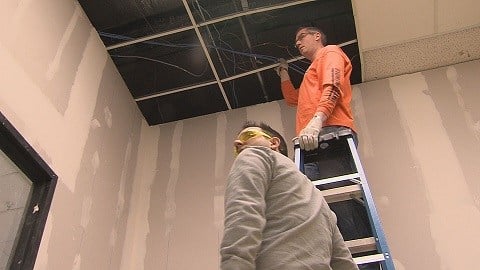 SPRINGFIELD - Give him a ladder and he'll go to work.

"They're taking full advantage of my height," said Michael Frerichs. The newly elected State Treasurer spent the day before his inauguration replacing ceiling tiles at the Habitat for Humanity ReStore in Springfield. "We're really excited, but before we go through that transition, we want to give back. This organization has done so much good for so many people around the country, but specifically in my hometown which was hit by a tornado last year."

He's helping the Springfield chapter of Habitat move into their new home. The project coordinator says the old ReStore is too small.

"We're going from 15,000 square feet to 38,000 square feet, so our restore will triple in size," said Ed Hohenstein.

The ReStore is where the organization collects donated furniture and resells it, raising money to build houses for the homeless. Frerichs is a firm supporting of Habitat's mission and says it coincides with his political values.

"They bring people with different backgrounds with different skills and all come together to produce a result, so we're going to bring together entrepreneurs, small business people, and banks to help grow our economy and spur economic development," he said.

Habitat leaders hope to open the new ReStore in 45 days. Frerichs ended the day with an inaugural-eve reception at the Abraham Lincoln Presidential Museum.