Gospel Recording Artist Celebrates MLK Holiday in Danville
Posted: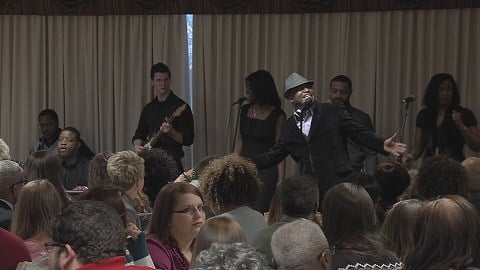 DANVILLE - Gospel music lovers may be upset they missed him. Recording artist, Everett W. Miller performed in Danville this afternoon at an Martin Luther King Jr. scholarship banquet. However, he actually wasn't the star of the event. That title goes to a young woman helping youth remember King's dream and his legacy. Standing before dozens, De'Ja Echols remembers a day when her pride was put to the test.

"I've been called derogatory racial names in public, by an adult, with my nieces and nephew," said Echols, speaking at the podium.

Sunday evening, she couldn't be more proud. De'Ja is the newest recipient of the Martin Luther King Scholarship awarded annually by the City of Danville.

"Dr. King was a great man, and winning this is just an unbelievable experience," said Echols.

The city's Human Relations Commission presents the award to a high school senior heading off to college. It goes to someone who has proven their dedication to making King's dream a reality. De'Ja wants to get a degree in criminal justice so she can do just that.

"I can empower juveniles and women in general just to get out there, and, you know, try and make a difference in equality in the world," said Echols.

Miller helped her celebrate the accomplishment. He's a Danville native.

"Every time I come here, it's just always been such joy to see all my familiar friends and family," he said. "It's just a blessing and an honor, actually."

Like Miller, De'Ja wants to make sure no one forgets King's dream, and that he fought so everyone could reach theirs.

"Don't go through the motions," said Echols. "Make your moves and your actions count. I mean, just be you!"